2011 European Dressage Championships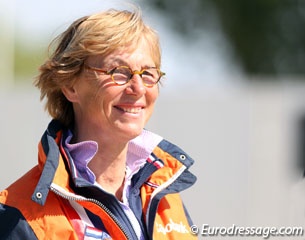 CHIO Rotterdam and 2011 European Dressage Championships' show director Tineke Bartels was interviewed by the Dutch Press Agency (ANP) on the future of dressage in The Netherlands. Since the sale of Totilas, the Dutch dressage team crashed down from being unbeatable to just a medal "candidate". Bartels believes that The Netherlands can only keep its top position if it doesn't sell its best horses.
The ANP article goes as follows:
Success in sport is sometimes for sale and it can cost quite a bit. For years investers have spent millions on speed (Formula 1), design (America's Cup) and prestige (Champion's League) but they are also willing to spend the big bucks on horses. For good riders with very horses there will soon be Olympic medals within reach.
Much has already been said about it and also at the European Championships in Rotterdam it will be a topic of discussion. In an unguarded moment the sale of the black wonder stallion Totilas caused a true shift in power. The new owner Paul Schockemöhle helped bring Matthias Rath and Germany back into the saddle, pushed world champion Edward Gal off his throne and relegated The Netherlands from favourite to candidate. Moreover he fed the German self-confidence one year before the Games.
That confidence had already grown well by the acquisition of a few special horses from Holland. "I share this worry," said Tineke Bartels who talks from experience and who is closely involved with the EU-CH organisation. "We have to think about a dressage horse fund. We have much riding skills here, but less horse power. It's a matter of money. Our breeding produces the best horses but the Dutch are dealers."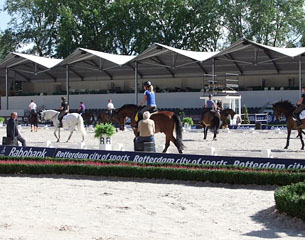 This balancing out of the power has a big advantage. The European Championships have never been so unpredictable. "It will be super exciting and a huge battle will be fought," said Bartels. Probably the elusive will be the decisive factor. Is there home advantage? "Yes, you always do a bit more your best in front of a home crowd. If the judges catch a bit of the orange buzz as well, it'll help."
Adelinde Cornelissen (Parzival), Edward Gal (Sisther de Jeu), Hans Peter Minderhoud (Nadine) and Sander Marijnissen (Moedwill) will inaugurate the new equestrian stadium in Kralingse Bos, which has a capacity of 7,000 seats. The European Championships will be a success when "we have all performed our best," said Gal. "If every one of us did their utmost," Cornelissen explained. "I can't add more to that," Minderhoud replied. "I hope to ride as well as possible," Marijnissen added.
Bartels was a bit more bold in her statements. "There are gradations, but we have to go for gold. The kur to music, sold out. The feeling that is wasn't only up to us. Totilas, Parzival, minutes of goose bumps. Longer than ever. I'm looking forward to that."
Source: ANP. Translated by Eurodressage
Back to the 2011 EDC index