2011 European Dressage Championships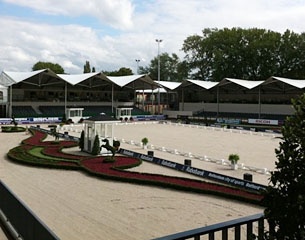 Most riders have arrived at the show grounds of the 2011 European Dressage Championships in Rotterdam and the first have already ridden in the main show ring in the brand new Interchem stadium, which now has a permanent grand stand. With the vet check coming up tomorrow and the Championships to start on Wednesday at 9.30 AM, the apex of the 2011 show season is nearing.
While on Sunday the stable tents were still partly flooded with water, the boxes are now all dry and being prepared by the grooms for the riders. The Austrian, Germans, Brits and Belgians are at the show. The Dutch and Swedish team are arriving this afternoon.
The footing however is in top condition. "The footing in the warm up is truly optimal," said Victoria Max-Theurer. "Even though so much rain poured down here recently you don't notice it at all in the ring."
German team rider Christoph Koschel is keeping a wonderful blog with photos, like he did at the 2010 World Equestrian Games, and you check out some of the latest updates on his website. Koschel reported that the Germans have trained in the main stadium early this morning and though there was still some minor construction going on, the arena was pretty much empty and they had all the quietness and space to properly train the horses.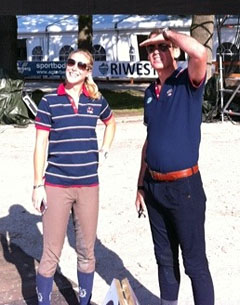 Brits Laura B and Carl Hester came to watch the Germans ride. Hester himself is excited about upcoming week. "This is the start of the week that could be make or break time," he admitted.
The distance between the lorries, stable area and the show ring is about 1.5 kilometers, but the positive aspect is that it goes through woods and there is a nice lake which brighten the view.
The Swedish team gathered at Patrik Kittel's Outstanding Stables in Appelhulsen, Germany, last weekend and with all the horses sharp and ready, the only thing that needed working on was team building. The entire Swedish crew went to an indoor German miniature golf centre and battled it out there. "Team Lennox won overall, with some impressive putting made by Cecilia Dorselius," Patrik Kittel wrote. "Her track riding and steeplechasing Dad, and team Chef Bossa, backed up by some impressive brain cells!. Team Scandic 'Skittles' won the Putt Putt though  and gave the top team a serious push!"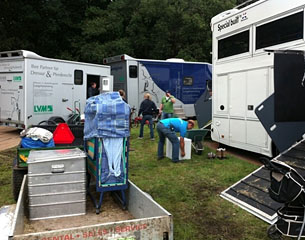 The draw for the nations' cup takes place on Tuesday evening round 18h00 after the vet inspection.
For those who want to tune into the live streaming of the European Dressage Championships, they can pay the price and watch via www.feitv.org or (hopefully) watch it for free on the streaming offered via the Dutch television broad cast. We are not sure if this stream will be geographically restricted but it's certainly worth a try: Sport24.nl They are supposed to stream the entire Grand Prix and Special.
Photos courtesy Kittel - Koschel - Max-Theurer
Back to the 2011 EDC index