2011 Pavo Cup Finals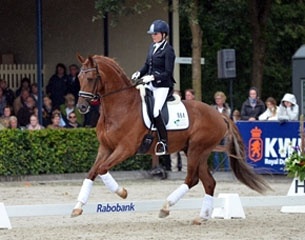 Charmeur and Borencio surfaced at the top of the leader board after three rounds at the 2011 Pavo Cup Finals held during the KWPN Paardendagen in The Netherlands, on 9 - 11 August 2011.The 4-year old Charmeur and the 5-year old Borencio left no doubt about that they were going home with the national Dutch Young Horse Champion's title.
Under Emmelie Scholtens the chestnut KWPN licensed Charmeur (by Florencio x Jazz) reigned supreme all the way in the 4-year old division. He won the semi-finals, the first round of the finals on Thursday as well as the guest judge ridden test to total a score of 378,5, well ahead of the reserve champion. The Huub van Helvoirt bred Charmeur is owned by millionaire Nico Witte (who just sold Bretton Woods to Schockemohle/Linsenhoff) and Mr Tamerus. Under guest judges Claudia Ruscher and Sander Marijnissen, the chestnut scored a 9.5 and 10.0 for rideability and talent.
Brand new young horse World Champion rider Scholtens wielded the axe of power as she covered the top three places with her three horses. With the black Chinook (by Vivaldi x Havidoff) she finished second with 367,5 points. Ruscher liked this stallion more than Charmeur and scored him a 10.0 while Marijnissen gave him a 9.0 score. Aboard Sara Pocock's Hanoverian stallion Connaisseur (by Con Amore x Donnerhall), Scholtens ranked third with 352 points. Ruscher gave a 9.5 score and praised the horse's walk and canter, while Marijnissen put an 8.5 on the score board.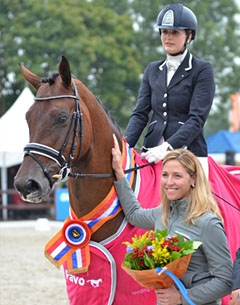 Scholtens and Annabelle Collins' Dutch warmblood gelding Borencio (by Florencio x Lord Sinclair) bested the field in the 5-year old division. The bay gelding, who failed to impress at the 2011 World Young Horse Championships last week, surfaced as Holland's best youngster in the Pavo Cup Finals this week. The bay was third in the semi finals but climbed the ladder by winning the first round of the finals. Also Ruscher and Marijnissen were impressed by the qualities of this horse and both gave him a 10.0 score for rideability and potential. With a total of 374.5 points, who was almost 10 points ahead of reserve champion Bon Bravour (by Painted Black x Chronos), ridden by Belgian Tom Franckx-Goen. The dark bay licensed stallion got two 9.5 scores from the guest judges and totalled 364 points. Hans Peter Minderhoud and his small trotting machine Boston (by Johnson x Quattro B) were third. They got 9.5 from Ruscher and 9.0 from Marijnissen and scored 356 points.
Photos courtesy www.kwpn.nl
VIDEO top right corner: scroll to 4min20 sec for the Pavo Cup footage
Results
4-year olds
Pl - Horse - Rider - Semi Finals - 1st Round Finals - Guest Judge Ruscher - Guest Judge Marijnissen - Total
1. Charmeur - Emmelie Scholtens - 91.5 - 9.2 - 9.5 - 10.0 - 378.5
2. Chinook - Emmelie Scholtens - 89.5 - 88 - 10.0 - 9.0 - 367.5
3. Connaisseur - Emmelie Scholtens - 86 - 86 - 9.5 - 8.5 - 352
4. Chippendale - Eric van den Wildenberg - 84 - 84 - 9.0 - 8.5 - 343
5. Carlton Hill - Vai Bruntink - 81 - 86 - 8.5 - 8.0 - 332
6. Cabola - Philip van Ommen - 81 - 86 - 8.5 - 7.0 - 322
7. Codette - Diederik van Silfhout - 85.5 - 82 - 7.5 - 7.5 - 317.5
5-year olds
Pl - Horse - Rider - Semi Finals - 1st Round Finals - Guest Judge Ruscher - Guest Judge Marijnissen - Total
1. Borencio - Emmelie Scholtens - 85.5 - 89 - 10.0 - 10.0 - 374.5
2. Bon Bravour - Tom Franckx Goen - 87 - 87 - 9.5 - 9.5 - 364
3. Boston - Hans Peter Minderhoud - 86 - 85 - 9.5 - 9.0 - 356
4. Before You Know - Jennifer Sekreve - 77 - 82 - 9.0 - 8.5 - 334
5. Bristol - Kirsten Beckers - 79 - 78 - 8.5 - 8.5 - 327
6. Beau Sejour - Marie Jose Hulsman - 75 - 81 - 8.5 - 8.0 - 321
Complete Results: 4-year olds - 5-year olds
Related Links
Borencio and Amazing Star Go All the Way and Take 2010 Pavo Cup Finals
TC Athene and Zhivago Win 2009 Pavo Cup Finals
Zuidenwind and Wynton Win 2008 Pavo Cup Finals
Westpoint and Vivaldi Win 2007 Pavo Cup Finals
Santano and Ucelli T Win 2006 Pavo Cup Finals
Uptown and Dreamcatcher Win 2005 Pavo Cup Finals
Florencio and Sandreo Win the 2004 Pavo Cup Finals
Special D and Robin Hood, 2003 Pavo Cup Winners
Rubels and Paster, 2001 Pavo Cup Champions
Natcho and Osmium Wins 2000 Pavo Cup Finals
Broere Stallions Dominate 1999 Pavo Cup Finals
Lucky Times and Mariena Win 1998 Pavo Cup Finals