2011 CDI Verden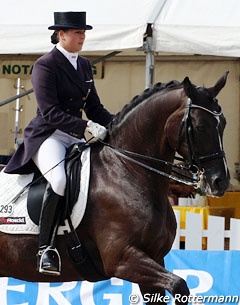 The popular warm-up classes for the no less popular Nürnberger Burgpokal qualifier fpr small tour horses saw a record field of 34 starters in Verden which meant the class was split in two divisions.Some former participants of the World Championships for young dressage horses took on the chance as mature FEI horses and competed in this class as which had an international touch with riders from five nations.
An Outstanding Former Verden Champion
The first division was won by a well known face in Verden, the 8-year-old Oldenburger Desperado OLD under Carola Koppelmann. The very sympathetic gelding by Dressage Royal had been the 5-year old World Champion three years ago under then owner Nadine Plaster. Koppelmann, who had taken over the ride more than a year ago, forms a very pleasing pair with Desperado OLD. The horse appeared supple and moved tension-free with lots of energy from his engine behind, in particular in the extended trots. The extended walk, which earned Desperado a 9, was excellent with much overtrack and stretching from a relaxed horse, but the walk pirouettes were both times not small enough. The flying changes were faultless, but could have been a bit more uphill. With 71,75% Carola Koppelmann and her horse not only stayed well ahead of the second placed, but showed real promise with their fine riding. After losing Insterburg and Rome one would wish this classy rider a return to the big time in near future!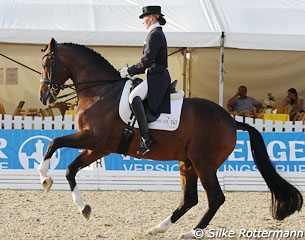 There was no magic involved with Simsalabim, who followed in second place, but Karin Winter-Polac's horse had a very convincing ride. The bay German Riding Horse (by Chagallo's Charming Boy) is the kind of dressage horse from which the crowd really gets the impression he loves his job and is content with himself and the world. His high marks for submissiveness proved that. Though only 7-years olds Simsalabim showed a matured ride and did everything very correctly, except for the rein back on the centreline where Polac had to give some obvious half halts to animate him going backwards. This dropped the mark down to 69,08%.
A crowd pleaser came third in the first division. The correctly sitting Christian Flamm from the Brandenburg State Stud of Neustadt/Dosse competed in the stylish uniform of the stud on a talented 7-year-old stallion named Lord Fantastic which had won a Bundeschampionat qualifier a year ago. Sired by Lord Loxely out of a Roncalli xx- dam this Rhineland branded stallion is clearly blood influenced and was amazingly mature for his age. The bit contact was exemplarily soft with the curb rein approximately 2 or 3 centimetres longer than the snaffle rein. However the horse still needs to come more in front of the vertical in the extensions.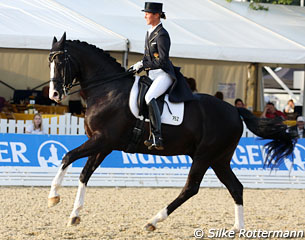 Former European pony champion Marion Engelen, who in the meantime has established herself on the German Grand Prix scene with Diego OLD, placed behind Lord Fantastic, earning 67,08%. Her gelding Sir Oliver is also only 7 years. His ride was without major flaws, only in the tricky walk pirouettes the pitch black horse lost some points. Peter Koch and the KWPN bred Egistar, an 8-year-old stallion by Cabochon x Kaiserstern xx, came in fifth with the mark of 65.83 % while last year's double European Young Riders champion Fabienne Lütkemeier followed in sixth place. Her placing with the three judges differed from 16th to 9th in the overall rankings. Fabienne's horse Sole Mio, a highly elegant, leggy Westfalian bred mare by Show Star is only 7 and has all it needs. She only needs to get stronger to bring her talents to full extent.
Flatley Reigns in the Second Group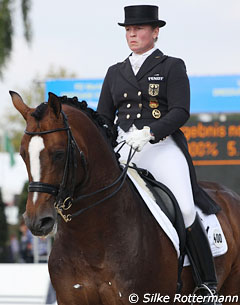 After his fourth place in the Mannheim Nürnberger Burgpokal qualifier with Matthias Bouten, Flatley was now competed by Bouten's boss Isabell Werth. At age 7 the compact Rhinelander stallion by Fürst Piccolo was one of the youngest horses in the field, but he already knows his job very well. Typical for Werth's style, the Tobias Schult owned stallion was presented with lots of energy. Flatley was very steady in all the movements, managing to stay virtually faultless. Only in the reinback he did not keep his neck up and the final halt wasn't closed enough.
With 70.83% the bay was more than 2% ahead of Damsey, ridden by Steffen Frahm. Like Desperado, the 9-year-old is a Hanoverian stallion by by Dressage Royal but out of a Ritualdam. Owned by the American Leatherdale Farms, Damsey produced several highlights in his test: the straight and uphill flying changes and his regular and relaxed extended trot with plenty of overtrack.
Anne Horstmann and the Hanoverian stallion Fengh Shui (by Fisherman's Friend) were the second starters in the huge field of competitors and managed to get the third place while Theresa Wahler, another former Young Rider, finished behind them on maybe the most beautiful horse in the field. Danone II is a Hanoverian breeding product by De Niro out of a Weltmeyer dam, who unites the blood of Hanover's most popular dressage sires. This black beauty, in the true sense of the word as Danone's coat is deeply black and shiny, could have placed higher if he hadn't made an expensive mistake in the canter pirouette in which he changed lead before the movement itself.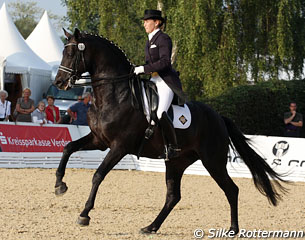 Karin Lührs' Sterntaler (by Show Star) ranked fourth in the second group. Interestingly one judge saw him in 18th place in the overall rankings while the two other judges placed him 8th overall. A similar discrepancy could be seen in the 5th placed pair of this second division: Jennifer Hoffmann from the USA on her attractive stallion Rubinio (by Rubin Royal). They placed 7th, 10th and 15th.
Text and Photos © Silke Rottermann
Back to the 2011 WCYH index - View 2011 CDI Verden Scores