Belgian Dressage News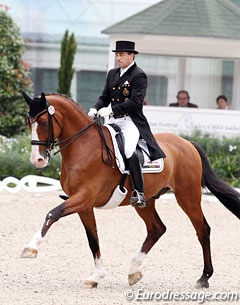 Belgian team trainer Volker Moritz has made his selection of combinations which will represent Belgium at the 2011 European Dressage Championships in Rotterdam, The Netherlands, on 17 - 21 August 2011.
With the 2011 Belgian Dressage Championships last weekend as final observation trial, Moritz made no surprises in the nomination of his team:
The Belgian team includes
Jeroen Devroe - Apollo van het Vijverhof (BWP, by Welt Hit II x Ritmeister)
Claudia Fassaert - Donnerfee (BWP, by De Niro x Rosenkavalier)
Philippe Jorissen - Le Beau (Old, by Le Coeur x Classiker)
Johan Zagers - Question de Liberté (DWB, by Quidam de Revel x Lagano)
The first reserve is Ronny Coenraerds on Calypso van het Goorhof (by Camus). The second reserve is Fanny Verliefden with Rubel (by Rubinstein).
Unfortunately Vicky Smits-Vanderhasselt has not returned to the show ring with Daianira van de Helle after gaving birth to her first child in July and this is the second major international championships she is missing out on where she should have been at on the Belgian team.
Julie de Deken, who was the reserve champion at the national championships last week with 68 - 70% scores, was not nominated for the team as she was unable to fulfill the FEI requirements during the 2011 show season after a bad start at the beginning of the outdoor show season.
Photo © Astrid Appels
Back to the 2011 European Dressage Championships Index