2011 World Championships for Young Dressage Horses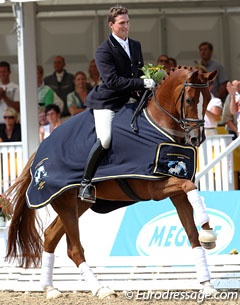 Michael Eilberg and the British Hanoverian mare Woodlander Farouche blew away all competition in the 5-year old preliminary test at the 2011 World Championships for Young Dressage Horses in Verden, Germany, on Thursday 4 August 2011. It has been years since such a show stopper stormed to the top of the ranking at the World Young Horse Championships.
The chestnut mare Farouche (by Furst Heinrich x Dimaggio) was a league of her own and scored a total of 9.28 to leave all competition miles behind her. German Helen Langehanenberg and Damon's Divene (by Damon Hill x Rubin Royal) finished in second place with a very strong 8.76, while two horses tied on third place with 8.64: the Dutch warmblood stallion Bon Bravour (ridden by Tom Franckx-Goen) and the Hanoverian stallion Swing de Hus (ridden by Jessica Michel).
Woodlander Farouche is Vavavoom
Farouche certainly fulfilled her reputation as highest scoring young horse in Great Britain. The 24-year old Michael Eilberg presented the mare with much finesse which enabled her to show off all her qualities. She was super elegant, light-footed and elastic in her trot work. The trot extensions were huge with a suspension that lasted forever. She could have shown slightly more bending in the voltes. The rein back was a bit hesitant, but Farouche collected extra points with her phenomenal walk. The canter was beautifully uphill. The simple change could have been executed more precisely, but Eilberg finished the test by proving that his mare ridden the right way. When the reins were given in the final exercise before the halt, Farouche was super relaxed and stretched her neck without losing her huge stride.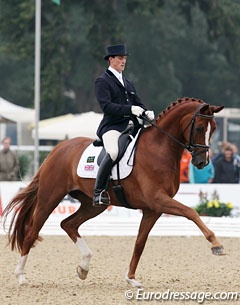 The judging panel consisted of Angelika Fromming (GER), Jennie Loriston-Clarke (GBR), Jacques van Daele (BEL) and Maria Colliander (FIN). They put whopping marks on the score board for Farouche. She got 9.5 for trot, 9.7 for walk, 9.2 for canter, 8.5 for submission and 9.5 for general impression.  Farouche won the preliminary test and is the undisputed favourite for gold on Saturday.
"She's got the perfect mixture of energy without losing her attention, she's powerful," Eilberg explained. "She's all natural, not manufactured and this makes my job easy. I just have to make sure the test goes smoothly, that the transitions happen."
Eilberg praised the mare's incredible rideability as contributing factor to her major success. "She felt like she always does: amazing," he said. "She coped amazingly with the atmosphere. She didn't feel any different. She's been to a lot of shows, but this is different." Farouche was not impressed by the WCYH stadium, which was filled to half capacity today. "It's quiet out there, the grass passage and then in the enclosed arena. It looks claustrophobic, but she feels better when she's alone and all eyes are on her. "
The fact that there is still room for improvement makes the owners and rider very hopeful for Farouche's future. If the mare develops more strength behind, she will have an even more powerful motor. "We work her, but there's no pushing. Why make her do better than she does now? We're not pushing her to do the 6-year old work now. She has so much power and expression. You can keep it back and only bring it out when you need it."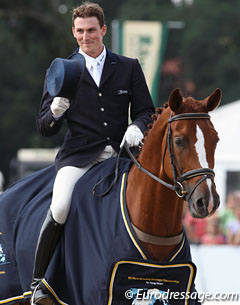 Farouche is bred by Lynne Crowden of Woodlander Stud in Wales, Great Britain. She currently co-owns the mare with the Eilberg family and an old friend of hers, Alison Walton. When asked if the chestnut is on the market, Crowden astutely answers, "she's a British team horse," automatically implying that if she were to be sold she will stay in Great Britain for a Brit to ride, preferably Michael. "She's the best I have ever bred," Crowden added. "When she was 4, I thought she's a glamourous young horse, but wondered if it will train on? This year she's a super model." Eilberg interpolated that " a Grand Prix horse like this will be unbelievable."
Woodlander Farouche is certainly the hot favourite for the champion's title on Saturday and it would be a crime if she were not to win it as no other horse in Verden matches her quality and potential at the moment. Eilberg tries to stay calm and collected. "I don't want to think about it too much (the Finals on Saturday)," he admitted. "The horse never let me down. She has competed in many classes and never had below 9 for anything.  She feels very reliable. I just have to make sure I'm focused."
Langehanenberg and Damon's Divene Set the Trend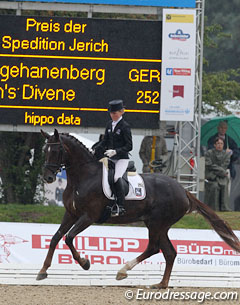 German Grand Prix team rider Helen Langehanenberg and Christian Becks' Westfalian mare Damon's Divene (by Damon Hill x Rubin Royal) set the trend early this morning by being the first high scoring horse as sixth to go in the preliminary test. The horses which went in the morning had to deal with rain showers, while the lucky few starting round noon competed in the sunshine. Damon's Divene was not shaken by the weather. The large framed liver chestnut mare scored 8.76 to finish second in the preliminary test.
Helen directed the mare professionally through the test. The Damon Hill offspring was well cadenced in trot and had good overtrack in the lengthenings. She was quite distracted, which already started at the beginning of the ride as the halt was not immobile, but Langehanenberg remained quiet in the saddle. The medium and extended walk had plenty of overstep and was clear in the rhythm. In canter the mare covered much ground and was very cool and collected in her work. In general she could be a bit quicker from behind.
Langehanenberg and Damon's Divene scored 8.9 for trot, 9 for walk, 8.7 for canter, 8.4 for submission and 8.8 for general impression.
Bon Bravour and Swing de Hus Tie for Third Place
Two stallions tied for third place and they were the Dutch owned Bon Bravour, ridden by Belgian Tom Franckx-Goen, and the French owned Hanoverian Swing de Hus, ridden by Jessica Michel.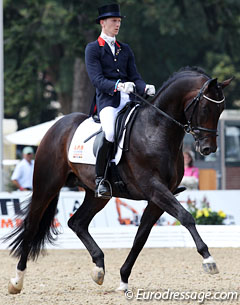 Belgian Tom Franckx-Goen was the one before last combination to enter the arena. After winning all young horse qualifiers in Belgium hopes were high for a good result in Verden. The dark bay stallion by Painted Black x Chronos xx covers tremendous ground in trot and is graceful in his movement mechanism.  On the short side, however, he had a tendency to become irregular and too passagey. The trot lengthenings were very strong. In walk Bon Bravour takes huge steps while staying very relaxed in the body. The canter work was solid with nice balance in the counter canter, but the transition from canter to trot was difficult. The stallion could be a bit more quicker in the hind leg and the only "problem" in today's ride was the contact with the bit. The bay could have foamed more and he tilted his head in several movements. Nevertheless, the pair, which is trained by Grand Prix rider Jeannette Haazen, put down a beautiful performance which earned them 8.8 for trot, 9.0 for walk, 8.7 for canter, 8.4 for submission an 8.9 for general impression. This totaled into 8.64.
French Jessica Michel saddled her boss Xavier Marie's Hanoverian stallion Swing de Hus (by San Remo x Wonderland). The gorgeous black stallion is a very chique dressage horse with much elegance in his movements. The trot could have been more forward, especially in the medium when the strides with the front legs became slightly short-long. Both the extended and medium walk were wonderful. The canter was nice. Swing's major problem was the bit contact. The horse was not always honestly on the bit, avoiding the contact by bopping and tilting his head regularly. The black stallion is extremely talented and was certainly amongst the most talented in the field, but he was generously scored when he got 8.7 for trot, 9.0 for walk, 8.8 for canter, 8.0 for submission and 8.7 for general impression.
Professional Riders Capture Places in the Top 10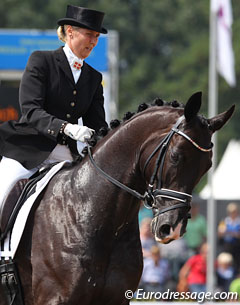 Employed by horse dealer Klaus Munkedahl, Danish Grand Prix rider Sanne Hennigsen competed yet another horse in Verden (previous horses are now Grand Prix horses Clearwater and Atterupgaards Molberg as well as Capong). Aboard the big black Danish warmblood gelding Atterupgaards Final Kiss (by French Kiss x Diamond) Hennigsen demonstrated her skill for riding a youngster very smoothly through the test. Final Kiss has a lovely head but his body is a bit sturdy. His gaits, however, are high class. The gelding has much cadence in trot and showed good bend in the corners. His walk was huge and his canter was ground covering and very functional for future FEI level work. Final Kiss should have been more elastic in general and showed little stretch when he was given the long reins in trot, but his rideability was amazing. The gelding got 8.9 for trot, 9.0 for walk, 8.4 for canter, 7.8 for submission and 8.3 for general impression, which led to a 8.62 score and fifth place.
Last year's World Champion Emmelie Scholtens finished sixth with the second most hyped Dutch warmblood stallion in the dressage and breeding world, Bretton Woods. The huge, long-legged black stallion (by Johnson x De Niro) did not show world young horse (!) champion quality everyone expected him to do in Verden. Today there were too many issues in the test for him to finish at the top of the leader board. Scholtens had to work very hard in the saddle to make the beautiful black stallion execute the test smoothly. With long reins and constantly half halting hands, Scholtens moved the horse's head from left to right while the horse failed to display through bending in his body in the voltes and corners. Nico Witte and Anton van Limpt's stallion has fantastic knee action and is certainly an eye catcher. He had massive overtrack in the extensions but was crooked in the body. The rein back was so so and there was little difference between the medium and extended trot. The canter work was lovely: big, uphill strides and a brilliant simple change. When the horse was given the long reins in trot, he slightly lost his expression. The judges awarded 9.0 for trot, 7.5 for walk, 9.0 for canter, 8.5 for submission and 8.8 for general impression (total = 8.56).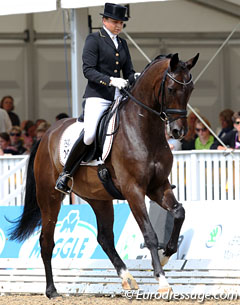 Dorothee Schneider is such an amazing young horse rider. Year after year she presents talented and not so talented youngsters is such an wonderful way. Her horses are light in the bridle, foaming, relaxed and appear happy to work for her. This year Schneider brought Gabriele Kippert's Showtime (by Sandro Hit x Rotspon) to Verden. The dark bay gelding has amazing cadence and swing in trot. At times he pushed himself a bit high in the neck. The trot could have been slightly more collected. In canter, Showtime maintained excelled balance, even in the counter canter. He was relaxed and over the back when given the long reins in trot. The Hanoverian branded gelding is not as expressive as Farouche, but he was very well ridden. He got 9.3 for trot, 8.8 for walk, 7.8 for canter, 7.9 for submission and 8.8 for general impression (total: 8.52)
Two horses tied in eight place: Florentinus V (by Florestan x Londonderry) and Borencio (by Florencio x Lord Sinclair). German born and based American Jennifer Hoffmann was the last rider to go today and benefit from the regency effect. The last horse usually scores a bit higher than all the rest because of the judges' ability to compare. The Voss Family's Florentinus V has wonderful suspension and a great rhythm in trot. The medium walk started out with much overtrack but the rhythm was not so clear. It improved further on the diagonal. In canter the tall bay gelding could have swung more over the back but his self carriage was good and he was quick from behind. His nose could have been a bit more out throughout the test but Hoffmann did a great job at staying fault-free. The simple change was great. The pair scored 9 for trot, 7.9 for walk, 8.0 for canter, 8.5 for submission and 8.7 for general impression.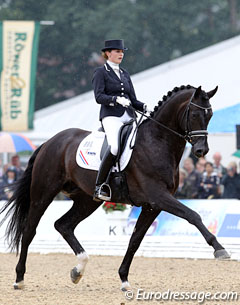 Emmelie Scholtens was a busy girl in the 5-year old test with two horses to ride. Aboard Annabelle Collins and Agusti Elias' Dutch warmblood gelding Borencio she finished 8th. The long legged bay is an extreme paddler in trot and was very unsteady in the contact with the bit: opening his mouth regularly and showing his teeth and tongue. The gelding has that typical Dutch roundness in his legs: lots of knee action and limited stretch of the limbs in the lengthenings. The horse did, however, cover much ground in the medium and extended trot. The extended walk was enormous, which makes one wonder about the ability to collect the gait. The canter is big with much potential but there was some loss of balance in the counter canter and the simple change didn't go as smoothly as planned. The horse scored 8.8 for trot, 9.0 for walk (?), 7.9 for canter and submission and 8.5 for general impression.
Hans Peter Minderhoud finished 10th with Mr Nekeman's cute little black stallion Bosten (by Johnson x Quattro B). The dark bay is extremely expressive in the trot. His hooked hind leg is electric, moving towards the gravity point, and he has much knee action. In medium walk the overtrack was good but he could have stretched the neck more. the contact was quite problematic today. Bosten either became behind or above the vertical, especially in trot. The canter was uphill and active but there was some tension in the simple change and in trot on the long reins the horse curled his neck. Bosten is a super talented mover but unfortunately Minderhoud is too tall for this horse as his legs are sticking 10 centimeters our under the horse's belly.
Text and Photos © Astrid Appels - No Reproduction Allowed
Back to the 2011 WCYH index