2011 World Championships for Young Dressage Horses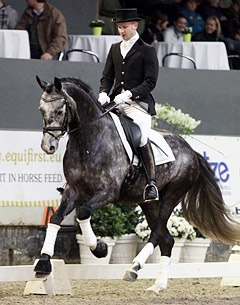 Belgium will only be represented by one 5-year old combination at the 2011 World Young Horse Championships in Verden, which start tomorrow 4 August 2011 at the Hanoverian equestrian centre and race track. Dominique Mohimont dropped out and registration issues with the reserve pair sadly led to just one 5-year old competing for Belgium.
Two 5-year old pairs qualified to compete in Verden for Belgium: Tom Franckx aboard the Dutch owned KWPN stallion Bon Bravour (by Painted Black x Chronos xx) and Dominique Mohimont aboard her own Dutch warmblood gelding Botticelli (by Vivaldi x Koss). Unfortunately Mohimont withdrew from participation.
The first reserve for the 5-year olds was the Belgian SBS registered Galliani Biolley (by Sir Donnerhall I x Lanciano) who had been competing at the Belgian WCYH selection trials with Jeroen Hannes. This combination was sent as nominative entry to the FEI and show organisation. In June a rider change took place as the grey licensed stallion is now being trained and competed by Ingrid Daeleman.
Unfortunately, the Belgian Equestrian Federation (KBRSF) forgot to change this rider switch in the nominative entries, making the pair ineligible to compete in Verden even though they are now called up for duty to replace Mohimont. A second reserve was never appointed, nor nominatively entered.
The closing date for the nominative entries was 5 July 2011 and Daeleman had by then ridden Galliani for a month as well as competed at the selection trial in St. Genesius Rode on 3 July 2011.
"The FEI rules only allow riders and horses to compete when they were nominatively entered on the list," Belgian chef d'equipe Jeroen van Lent explained. "We sent several mails to the FEI but to no avail. I'm very disappointed."
It is amazing that the Belgian Equestrian Federation never nominated a second reserve, nor did they add the new rider with the horse on the nominative entry list for Verden. Van Lent mentioned that the Belgian FN dressage secretary was on holiday at the time. "Next year we just enter all participants of the Belgian WCYH selection trial on the nominative list," Van Lent quipped.
Though Belgium has four starter places at the World Young Horse Championships, this year only three will be filled.
Back to the 2011 WCYH index