2011 CDIO Aachen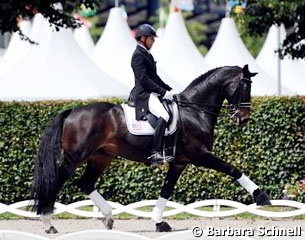 Eurodressage's correspondent Barbara Schnell is a pro at taking the most wonderful behind the scene snap shots. Check out the collection of photos she sent of the world's best riders, trainers and grooms working it as the prestigious show grounds of Aachen.
"It's part of the Aachen experience for the spectators who don't have stadium tickets to be at least able to see their stars in the warm-up," Schnell wrote. "Most of the riders chose to stay at the "backstage" warm-up though. Fortunately, Fuego, Ravel, Totilas and El Santo NRW were a few of the laudable exceptions."
"When Totilas was warming up for the freestyle on Sunday, though, the warm-up suddenly became off-limits even for people who were accredited to be there. With a long enough lens, it was no problem getting pictures anyway," Schnell explained. Barbara admitted she had picked up word that spectators tried to beak through the hedges and that some photographers had forgotten what a warm-up is for, but "the special treatment the pair is getting is, well, let's say odd. Let's hope things go back to normal soon!"
Photos © Barbara Schnell - No Reproduction allowed
Back to the 2011 CDIO Aachen index