2011 European Junior and Young Riders Championships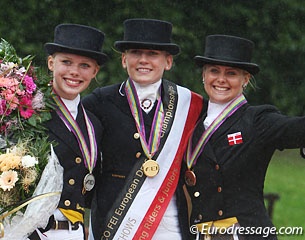 Danish junior Nanna Skodborg Merrald was crying with disappointment after she lost her individual test medal due to an unscripted flying change at the end of her test. However, those tears of sadness turned to gold one day later as the former pony rider dominated the Kur to Music Finals at the 2011 European Junior Riders Championships in Broholm, Denmark, on Sunday 24 July 2011.
Aboard her 10-year old Danish warmblood gelding Millibar (by Milan x Liberty Dane) Skodborg Merrald rode to Vivaldi music and excellend in smooth, active and flowing trot work. Her horse had no problems keeping the balance in the voltes and traversal movements and was ground covering with much left in the frontleg. In canter the flying changes were big but in counter canter, Millibar lacked some swing in the back. One issue arose at the end of the test. The transition from canter to trot was troublesome as Merrald had to undertake a few attempts to get her horse back into trot. The pair scored 76.70% in total and placed first with three judges. One had her second, the other third.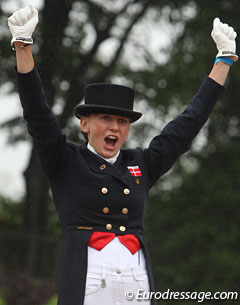 Merrald was beaming on the podium and raised her arms in the sky in celebration of her gold medal. At the press conference she was still shocked about her accomplishment. "I can't understand it, it is so unrealistic," she said. "I had a very good feeling in the arena. I had a mistake in the transition but I don't think it made a big different."
Merrald's mental game before a class is tunnel focus on victory. "I have to feel confident. If I don't believe it, it wouldn't happen. Today I was more relaxed."
Voigtlander on a Mission
German Pia Katharina Voigtlander was giving it her all in the Kur to Music finals, which were taking place on Sunday morning during a torrential downpour. Her 10-year old Bavarian Laetitian R (by Lord Sinclair x Cartier) went full throttle in the test and had no problems floating over the 20 x 60 m puddle that the arena had become. The trot work was balanced, expressive and very ground covering, but the horse hardly showed any collection as he was ridden in medium trot throughout the movements. The extended walk was very good, but Laetitian could have stretched the neck a bit more. The canter work was rock solid and confident. The large framed bay gelding was wide behind in the end halt.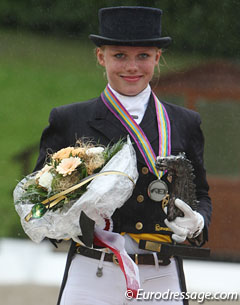 Voigtländer, who already earned her Golden Rider Badge at age 15, ended up with a 76.575% score and narrowly missed out on gold. Pia Katharina's second silver this weekend was good enough to put a permanent smile on the blond's face. "He was very good today," she commented after the prize giving ceremony. "We fought but it wasn't enough for gold. I'm still very happy."
Voigtlander is trained by her mother Julie, who runs Dressage Stable Eichkamp in Berlin. German team trainer Hans Heinrich Meyer zu Strohen was happy about her performance. "Despite the lasting downpours she executed a sunny test. She really got everything out of her horse and did the movements perfectly to the music," he said.
Zibrandtsen Repeats Bronze
Danish shooting star Anna Zibrandtsen was back on top form in the Kur to Music and finished in bronze medal position again. With her powerful mare Capriciella (by Cordoba x Wenzel I) danced to the music.
The mare is super elastic in the trot half passes and overall has much expression in trot due to her light-footedness. There was some balance loss in canter which resulted in the mare becoming a bit unclear in the 3-beat rhythm. The canter movements could have been ridden slightly more accurately, especially the onset of the half passes in which she swerved.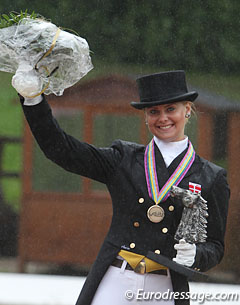 Zibrandtsen scored 76.125% and placed third overall. Verbeek had her on first place, Philips and Tornblad on second and Riexinger and Colliander had her fourth. "It's unbelievable," said a beaming Anna at the press conference. "I didn't expect a medal today. I went for it. Just sitting on this horse is so amazing."
Zibrandtsen has been a working student at Jan Brink's Tullstorp stables in Sweden since February 2011 and has only switched the dressage from eventing recently. Two knee-surgeries have helped her to made the definite turn to dressage. "I wasn't very good at show jumping anyway," she said.
Anna discovered her mare Capriciella, nicknamed Pipi at home, at Hartwig Burfeind's barn in Germany one year ago. "I sat on her for five meters in trot and told my parents that we no longer needed to look at other horses," Zibrandtsen explained.
Text and Photos © Astrid Appels - No Reproduction allowed
Back to the 2011 European JR YR Championship index