Oldenburg Breeding News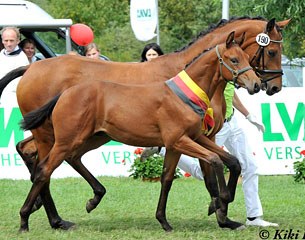 A Furstenball colt and a Surprice filly were proclaimed champions at the 2011 German Foal Championships in Lienen, Germany, on 16 - 17 July 2011. Twenty-two foals in total made it into the end ring where the judges picked the national champion and ranked the other foals.
Twelve colts made it to the final championship ring on Saturday 16 July. Bernd Ilting-Reuke's Furstenball I x Sir Donnerhall colt scored a staggering total of 98 points and was a league of his own in the colt category. The bay referred Bianca and Jörg Opper's Ampere x Fidertanz colt to a second place with 92,50 points. Hermann Peter Rabeler's Furst Nymphenburg x Donnerhall was third with 92.000 points.
On Sunday 17 July 2011 ten fillies were picked to battle it out for the national championship title. Petra Fockenberg's in-bred filly by Surprice (by Sir Donnerhall I x Prince Thatch xx) offspring out of a Samarant (Sandro Hit x Brentano II) dam scored 93,5 points to best the filly division at this year's national championships. She was followed very closely by the runner up, a Fiderstep x Rubinstein I filly, bred by Heinz Schutte. This young mare scored 93,33 points. Norbert Schmidt's Quaterback x Lauries Crusador xx finished third with 92,50.
Photo © Kiki Beelitz
Results
Pl -  Breeder - Pedigree - Score
Colts
1. Ilting-Reuke Bernd -  Fürstenball x  Sir Donnerhall I -  98,00
2. Opper Bianca & Jörg -  Ampere x  Fidertanz  -  92,50
3. Rabeler Peter Hermann -  Fürst Nymphenburg  x  Donnerhall -  92,00
4. Wanning Nicole -  Floriscount  x  Metternich -  91,66
5. Jahn Steffen -  San Amour  x  Früst Heinrich  -  91,50
6. Strecker Gisela -  Sandro Hit  x  Frisbee  -  91,50
7. Platte Josef -  Vitalis  x  Levados -  91,00
8. Frölich Ursula  -  Vitalis  x  Dinard L -  89,83
9. Emke Ludger  -  Floriscount  x  Sunny Boy -  89,16
10. Katzke Maik -  Damon Hill  x  Quando Quando -  88,83
11. Blüggel Ralf  -  Fürstenball  x  Sandro Hit -  88,83
12. Leuteritz Jürgen -  Fürstenball  x  Lanciano -  88,33
Fillies
1. Fockenberg Petra -  Surprice x Samarant -  93,50
2. Schütte Heinz -  Fiderstep x Rubinstein I  -  93,33
3. Schmidt Norbert  -  Quaterback x Lauries Cusador XX -  92,50
4. Pulte Sandra -  Vitalis x Don Bedo I  -  92,00
5. Moormann Frank -  Fidertanz x Sandro Hit -  90,83
6. Zuchthof Bauer -  Fidertanz x San Remo  -  90,33
7. Weidner Alexandra -  Quadroneur x Linolando -  90,16
8. Max Theurer Viktoria -  Quaterback x Diamond Hit  -  89,33
9. Reim Günther  -  Desperados x Abanos -  89,33
10. ZG Borowczak Hoffmann  -  Deveraux x Florestan I -  88,83
Related Links
2011 German Foal Selection Show Circuit Coming to A Close with Five Final Winners
Twenty-Five More Foals Move on to 2011 German Foal Championships
Furstenball and Fiderstep Sire Winners at 2011 Holkenbrink Foal Show
Romanov and Furst Nymphenburg Sire Champions at German Foal Show in Lastrup
Twenty-Six Foals Selected at Breed Shows in Repetal, Filsum and Moosthenning
Seventeen Foals Selected for Lienen at Westerwald, Isterberg and Werdel Foal Shows
Furstenball and Vitalis Reign as Sires at Foal Selection Shows in Moritzburg and Warendorf
Floriscount and Furstenball Stand Out as Sires at 2011 German Foal Selection Shows
Sungold and Floriscount Produce Winners at 2011 Hagen Foal Selection Show
Romanov and Diamond Hit Produce Winners at 2011 Lodbergen Foal Selection Show