2011 CDIO Aachen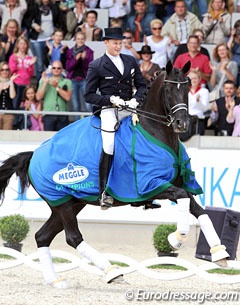 Was he going to win again? The attention of the crowd was focused on Matthias Alexander Rath and Totilas' performance in the CDIO Grand Prix Special on Saturday 16 July 2011 at the 2011 CDIO Aachen. Could Rath possibly be beaten by his main rivals Laura Bechtolsheimer/Great Britain and Adelinde Cornelissen? Before Totilas entered the dressage arena, the score to beat had been set by the Dutch dressage rider Adelinde Cornelissen: 79.771 percent.
Isabell Werth achieved the best German result with the 10-year-old El Santo NRW. She came third with a score of 78.271 percent. However, Matthias Alexander Rath showed nerves of steel and Totilas convinced with an almost flawless test, winning with a score of 83.062 percent.
Rath's team was ecstatic with his victory. "It is wonderful feeling the enthusiasm of the spectators and I am delighted with our success," commented Matthias Rath overjoyed.
Germany ahead of the Netherlands – the eternal "duel" between the two neighbouring countries continues. Cornelissen rode to win with her 14-year-old Jazz son Parzival, who won the Dressage World Cup Final in 2011 in Leipzig. She finished second on a score of 79.771 percent ahead of Isabell Werth who was delighted with the performance of her ten-year-old "Ernie" here in Aachen.
Laura Bechtolsheimer made some mistakes as well as a program error and finished fourth with a score of 77.29 percent.
-- CHIO Press Release
(A detailed GP Special report as well as a kur report coming up Sunday afternoon)
Photo © Astrid Appels
Back to the 2011 Aachen Coverage