German Dressage News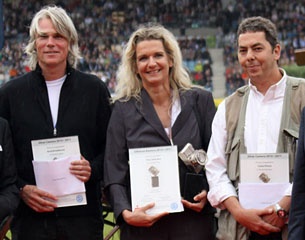 They are usually behind the camera but on Saturday evening the three equestrian sport photographers were in front of the camera for a change at the 2011 CDIO Aachen.
Arnd Bronkhorst (the Netherlands), Caren Firouz (Iran) and Julia Rau (Germany) were nominated for the best international equestrian sport photo. And the winner was the Mainz based German Julia Rau. She convinced the judges with her photo "head over heels" which was the first vaulting photo to win the Silver Camera Award.
Second place went to Iran based war photographer Caren Firouz who works for Reuters, while Dutch photographer Arnd Bronkhorst took third place.
The prize is jointly organised by the Sparkasse Aachen and the Rhenish Savings Bank and Giro Association in cooperation with the ALRV. The winner receives 2500 Euros, and there is 1000 Euros and 500 Euros prize-money for second and third place, respectively.
- CHIO Aachen Press release
Back to the 2011 Aachen Coverage