2011 CDIO Aachen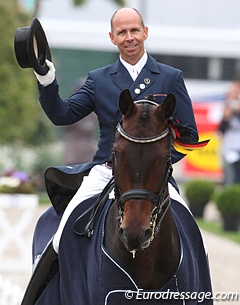 Steffen Peters' trip to Europe started with a victory, the first in the dressage competition at the 2011 CDIO Aachen. The American World Championship bronze medallist won the opening dressage class, the Prix St Georges aboard Jen Hlavaceck's Westfalian Weltino's Magic.

American Steffen Peters, who won the "Dressage Grand Prix of Aachen in 2009 with Ravel, crossed the Atlantic to Europe this year exclusively to compete in Aachen. He will be taking on the absolute world elite tomorrow in the Grand Prix competition. Today, he rode his talented young horse, the 9-year-old Westphalian, Weltino's Magic, in the Prix St. Georges. And his performance was rewarded with a score of 72.579 percent and the victory.
The 9-year-old Oldenburger Famoso came second with the Danish rider, Andreas Helgstrand (72.342), ahead of the three-time World Champion from the Netherlands, Edward Gal. Galwas the "Dressage Grand Prix of Aachen" last year. Today he scored 71.763 percent with his 9-year-old Dutch-bred De Niro son Voice. Isabell Werth (Rheinberg/71.447) was the best German rider on the 10-year-old Oldenburger, Der Stern.
The premiere didn't quite go as planned. Jill de Ridder was allowed to compete at the CHIO Aachen for the first time this year. The 18-year-old rider from Aachen has already gained international experience: In 2007 she was double European Champion of the Juniors and in 2010 she claimed team gold with the German European Championship team. Competing at the CHIO Aachen was a dream come true for the daughter of team Olympic gold medallist, Alexandra Simons-de Ridder, but unfortunately things didn't run at all smoothly for the young rider in her premiere. She ranked 17th in the Prix St. Georges with a score of 61.763 percent, last place. Wellington, who is simply known as Werner at home, didn't make life easy for the 18-year-old. Due to the fact that he is more used to the sequence of the Grand-Prix exercises, the large-framed gelding made a few mistakes, he fell into canter in the extended trot and made mistakes in the flying-changes.
"Jill made the wrong decision in the last second before entering the dressage ring. And that was a fatal mistake. She rode in too early," explained her father and trainer, Ton de Ridder. His daughter still had plenty of time, but she thought that she had only got a second or so and took the 16-year-old gelding totally by surprise with her sudden entry. The pair demonstrated how good they can be in Balve in the Grand Prix of the U 25 Young Talents Award, which was rewarded with a nomination for the U 25 Nations Cup at the European Champions of the Young Riders in Denmark next week.
-- CHIO Aachen press release
Photos © Astrid Appels
(more coverage coming soon)
Back to the 2011 CDIO Aachen index