2011 French Pony Championships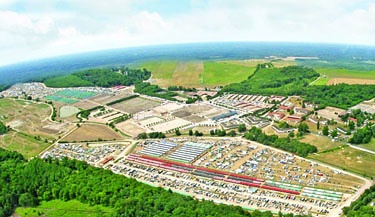 David Stickland, FEI Score Analyst, and Lyn Stickland, a PSG rider and manager of Sports Equestes de Belle Ferme, are the proud parents of French FEI pony rider Clarissa Rufin. David gives you an impression of what it feels like, as a parent,  to be at the French Pony Championships, probably the biggest anual horse event in Europe with over 7,000 ponies competing. Read David's impressions from the show in Lamotte:
This is quite probably the biggest horse event this side of Montana! We are at the Open Poney de France in Lamotte-Beuvron, me for the ninth year running, Lyn for the sixteenth! This event defies all reasonable comparisons. There are 7352 ponies taking part in a 9-day equine extravaganza, 7677 youngsters from all over France have come with their own or their riding school ponies to take part in 129 French championship classes covering every equine discipline you have heard of, and a number you probably haven't. The stables stretch off for a kilometre or so in every direction, the roads are packed all day every day with vans and trucks bringing ponies in and out. Nearly 8000 kids means about twice that number of parents and grandparents and rows of shops catering to the happy winners and consoling the less fortunate participants with shopping therapy, it is little girl heaven!
We come every year with 15-20 ponies and riders from Lyn's riding school, our mix of events changes each year, this year we have just one pure Dressage rider - our 12 year old daughter Clarissa - two Eventing riders, and a whole load of Jumpers. It's Sunday, Clarissa is in the French Dressage Tournee des As for FEI dressage ponies. Fifteen couples are here to vy for the championship and for the selectors to have a last view of them all before choosing the Team for the Europeans in Poland. We have spent the year competing together in France and in the CDIP's, it's a strong supportive group of parents, kids and trainers, but the signs of stress are a bit more obvious here as there are just four positions with seven riders on the long list. We have bought Diana with us down from Dressuurstal Van Baalen on Thursday. She is an eight year old Don't Worry mare that Coby found for us at Jo Hinnemann's. We've been to three CDIP and the couple has got better each time finishing top of the French riders in the Team Test at Compiegne.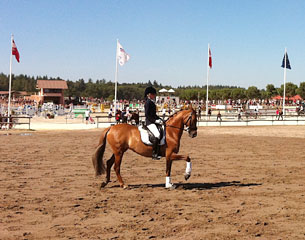 Friday the young mare was spectaular, well a bit too spectacular, the ambience here is like nothing she had ever seen. Kids on ponies everywhere, jumping, cantering, practicing for pony games, splashing through the river Beuvron - it's a long way from a peaceful dressage stable in Holland. She started a very nice passage half way along our route from the stable to the paddock that was available for the FEI dressage riders that evening. Her extended trots were amazing, knees up by her ears, but the halts left a bit to be desired. Saturday we lunged her, rode her round the site, took extra time in the warm-up, but Clarissa had a hard time getting a halt, without a piaffe.
So this morning it was early to rise, gentle walks around the park before it got too lively and some extended lungeing to release some of that tension. At 9am one of our club riders is going in for the second day of her jumping championship, so it's a detour to watch her. The FFE has established championships for each size and level of pony, and often for each age group, so that there is a chance for everyone to compete against similar level riders. But it's also where the top level riders come to compete and to get selected for the Europeans in each discipline; Penelope Leprevost followed the route through Lamotte on her way to the highest levels of CSO, and in ten years time it's my guess that the majority of French professionals will have developed and matured their riding and competitive edge at this amazing event.
There are almost as many "velos" (bicycles) here as there are ponies, you have to have one to cover the kilometers between each event or to rush back for that forgotten item. This year one enterprising company has set up a bicycle repair centre that is doing a flourishing business, we are probably not the only ones whose bicycles sit gathering dust each year and then have to perform at top level once a year at Lamotte.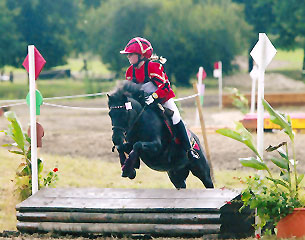 In France even the Shetlands can do eventing, it's amazing to watch these smallest riders competing in an Olympic discipline. They compete in teams of four, Clarissa did it three years ago and flew round the cross, but the rest of her team got eliminated! Lamotte is of course about winning, but above all it is about participating at the highest level each rider is able and in a supportive team environment.
The pony games are well under way, it's very popular here in France, though the national equine sport is clearly jumping (I blame it on Michel and Kevin). There are 9 jumping arenas running every day from 9 to 18h, there are even two different levels of Shetland jumping! Clarissa won her first championship in driving in 2006 and her second in Shetland jumping two years later. Actually she won her first Championship at the age of 3 in the Mini-Hunter classes and took the first place in that for the following four years. To be fair, there are about 10 kids placed in the first group each year in this event, but it all goes to encourage them to come back the next year.
Today we get to the warm up by passing a Shetland jumping arena, Diana starts to passage again, but in the arena it's a lot better, still too tense to halt, but all in all a better show. But not good enough for the team this year, we ave to settle for being a reserve. Joy Albeck and Wimbledon take the first place convincingly for the second year running. Then it's over to the prize giving arena for a podium and one of the 129 renditions of the Marseillaise -- the French national anthem -- that will be played this week.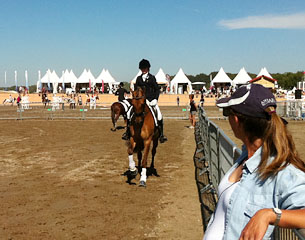 Back to our stables to put the other fifteen ponies to bed, then back to Center Parcs to collapse and prepare for the next day. Just to make our lives more interesting, Clarissa is competing in the CDI-P at Vierzon on Thursday morning, and jumping at Lamotte with a B-pony Qurdjam Champtressac in the afternoon. From experience I know we will be totally shattered by the time it's all over and we can go back to a relaxing working life!
But it's worth it, this event is the motor for the riding clubs in France, it is a giant celebration of childrens riding and every kid that came this year will start bugging their parents in September to qualify for next year...
- by David Stickland
Related Links
Joy Albeck Renews Title at 2011 French Pony Championships
French Team Selected for 2011 European Pony Championships