2011 European Dressage Championships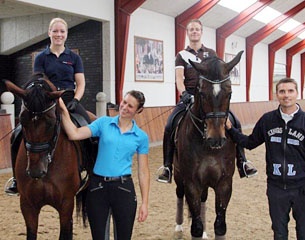 The Norwegian dressage team riders spent a two-day training session at Andreas Helgstrand's Møgelmosegaard in Denmark as part of the preparation for the 2011 European Dressage Championships which are set to take place in Rotterdam, The Netherlands, on 17 - 21 August 2011. The participating team members were Jonas Elvebakk, Camilla Kalseth, Siril Helljesen, Lillan Jebsen and Cathrine Rasmussen.
On the first day the team had a meeting with mental trainer and coach Rasmus Bagger in the morning. Bagger is an eventing rider and has succesfully coached several sports people and top riders towards major championships. The riders got new, useful information from Bagger on how to focus and concentrate as well on how to change one's mind set. All riders felt encouraged and empowered by their new mental tool to use in competitons.

For the rest of the day the riders had private training sessions with Andreas. Helgstrand particularly focused on activity, throughness and correctly performed movements. The riders felt they were able to raise their game and make their horses more expressive through this work.
On the second training day the riders practised test-riding as most of them had a show coming up on the weekend.  They concentrated on riding accurate lines in test and got useful tips from Andreas.  "Helgstrand  is a very inspirational trainer to ride for. He wants 100% from the riders, and is a very thourough and positive trainer to get help from," team rider Jonas Elvebakk commented. "He is able to really make riders try to get the best out of their horses."

The two training days were inspiration for the Norwegian team riders who were also able to bond on a social level. They watched and learnt from each other as well as got a glimpse of the other horses being trained in Andreas' barn.
As Norway has a team qualified for the 2011 European Championships, this seminar was part of the build-up towards Rotterdam. "Dressage in Norway has undergone a tremendous development the last years with more riders competing internationally succesfully," Elvebakk added.  "The team consists of a young group of riders who all are very dedicated to the sport and want to step up to the top level of dressage."
Related Links
Eurodressage Coverage of the 2011 European Championships
Leif Sorensen Appointed Norwegian Senior Team Trainer
Norwegian Dressage Riders Qualify for 2010 World Equestrian Games