Australian Dressage News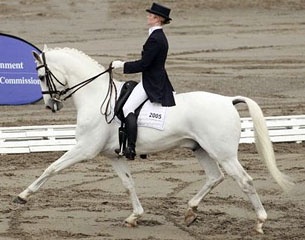 The Australian Equestrian Federation's High Performance Program has developed the National Futures Squad, an initiative to identify talented horse and rider combinations in Dressage, Eventing and Jumping
, and to provide greater access to the development opportunities within the High Performance Pathways Program.
A key feature of the Futures Squad is the Talent ID program, which is designed for early identification of exceptional horse/rider combinations with the potential to represent Australia at the highest levels of the sport.
Nominating to attend a Talent Identification assessment will provide an unparalleled opportunity to introduce promising horse/rider combinations to the High Performance Program – the National Selectors and National Performance Directors. Once selected at a Talent Identification assessment in a particular discipline, horse/rider combinations will be recognised as members of the National Futures Squad.
Talent Identification Days are being scheduled in each State from August 2011. Dates and locations will be published and updated here on the National website and on each State's website.

Benefits of the National Futures Squad
Futures Squad members will be invited to EA National High Performance Squad clinics, and will have access to a range of additional support programs, with the cost of these covered by the National Pathways program. It is expected that the most successful Futures Squad combinations will ultimately progress to A and Elite Squads.
Also offered to Futures Squad members will be access to the latest in veterinary and sports science, including sports psychology, strength and conditioning, video feedback, and information on travel and international competition. A database will be established to record performances longitudinally, and to monitor these in relation to stated training and performance goals.
The provision of athlete programs and clinics is intended to add value to the individual training programs undertaken by riders and their personal coaches. Ongoing communication between the High Performance Program and Squad Members is encouraged, and coaches of Squad Members will be encouraged to attend clinics and master classes provided as part of the Pathways Program.
Nominating for Talent Identification Days – closes Friday 29th July 2011
Related Links
Australian Youth Squads for 2011 Announced
Australian Dressage Squads for 2011 Announced