2011 Bundeschampionate Qualifiers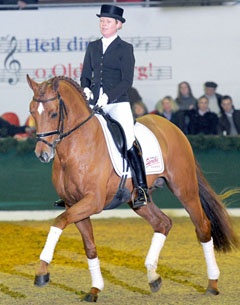 Don Ed Hardy and Stratege won the Bundeschampionate qualification classes at the Thuringian regional qualifier hosted at the equestrian centre of the Sprenger family in Grabsleben, Germany, on 25 - 26 June 2011. The 5-year old L-level test and the 6-year old M-level test were both judged by Hafenrichter and Krack-Go?rtz.
Sandra Kötter and the Hanoverian bred Don Ed Hardy (by Donnerball) pushed for power in the 5-year old dressage horse test and scored 7.7 to take the trophy. Wiebke Rittner and the Oldenburg Dancer (by Danone I) was second with a 7.6. They tied with Tatjana Schneider on the Oldenburg Don Amorosso (by Don Crusador).
Matthias Schneider and the Hanoverian Stratege (by Sandro Hit) bested the field in the 6-year old M-level dressage horse class. The pair scored 8.3 and were just a fraction ahead of Hermann Gerdes on the Oldenburg Soleado (by Sandro Hit x Argentinus) with 8.2. Rene Weber and the Westfalian mare Deborah (by Florestan I) were third on 8.0.
Results
5-year old Dressage Horses
1. Don Ed Hardy - Kötter, Sandra - 7.7
2. Dancer - Rittner, Wiebke - 7.6
2. Don Amorosso - Schneider, Tatjana - 7.6
4. World in Love - Senge, Andreas - 7.5
5. Dark Angel - Brauckmann, Anne - 7.4
6. Moulin Rouge S - Strümpfel, Jacqueline - 6.5
Her Highness - Senge, Andreas - DNS
6-year old Dressage Horses
1. Stratege - Schneider, Matthias -  8.3
2. Soleado - Gerdes, Hermann - 8.200
3. Deborah - Weber, Rene - 8.000
4. Ramazotti de Grande - Strümpfel, Jacqueline - 7.000
5. Rio Akzento  - Singh, Anika - 6.900
6. See You Soon - Brandt, Andreas - 6.800
7. Red Rose  - Belitz, Ute -  6.500
8. Hobson's Choice  - Tuscher, Doreen - 6.400
Saaleprinz  - Brandt, Andreas  - DNS/RET
Flint  - Senge, Andreas - DNS/RET
Back to the 2011 Bundeschampionate Index