2011 Bundeschampionate Qualifiers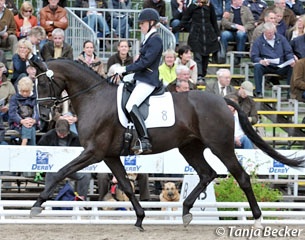 Apassionate and Special Dance were the winning horses in the Bundeschampionate qualification classes held at Birgit Meyer-Heinemann's Anakenenhof equestrian centre in Pinneberg, Germany on 22 June 2011. Three horses in total scored the necessary norm to earn a ticket to the Bundeschampionate Finals in Warendorf.
The 5-year old division was judged by Appen, Do?rler, and Storbeck and Andrea Kersten-Muller placed first aboard the Oldenburg mare Apassionata (by Sir Donnerhall x Friedensfurst). The black mare scored 8s for walk, canter and submission and 8,5 for trot and general impression. Anna Sophie Fiebelkorn and the dark bay Hanoverian mare Hofliebe (by Hofrat x Wie Weltmeyer) were second with 8.0. They got 7.5 for canter and submission, 8 for trot and general impression and a 9 for walk.
The 6-year old division was judged by Busse, Do?rler, and Storbeck and only one horse was able to achieve the Bundeschampionat selection score of 8.0 or higher. Katrin Burger won the M-level test aboard the Belgian bred dark bay Oldenburg gelding Special Dance (by Sandro Hit x Grundstein II, previously named San Grio van het Klaverhof) with an 8.0 total score. She got 7.5 for trot, 8s for canter, submission and general impression and 8.5 for walk. Cathrin Beckmann-Messfeldt and the Westfalian gelding Rock Ribery (by Rockwell x Fidermark)  were second with 7.7.  They earned a 7 for walk, 7.5 for submission and general impression, 8 for canter and 8.5 for trot.
Photo © Tanja Becker / Equitaris.de
Results
5-year old Dressage Horses
1. Andrea Muller-Kersten - Apassionata - 8.2
2. Anna Sophie Fiebelkorn - Hofliebe - 8.0
3. Thomas von Samson - Louboutin - 7.7
4. Susan Pape - Fabregas - 7.6
5. Anika von Holdt - Wellina - 7.4
6. Jana Junglas - Winny - 7.3
6. Peter Koch - Ronaldo - 7.3
6. Steffen Frahm - Lord Laurie - 7.3
9. Martin Christensen - Santander - 7.2
9. Britta Hofmann - Dio Vero - 7.2
9. Andrea Kersten-Muller - Karvina - 7.2
12. Peter Koch - Real Fascinatio - 6.7
13. Catrin Ritters - Black Jack - 6.0
Kaarina Bockmann - Der Kleine Lord - RET
6-year old Dressage Horses
1. Katrin Burger - Special Dance - 8.0
2. Cathrin Beckmann Messfeldt - Rock ribery - 7.7
3. Anna Sophie Fiebelkorn - Bellagio - 7.6
4. Marie Theres Bahn - Dr House - 7.4
4. Jana Klasen - Santinello - 7.4
6. Eckhard Wahlers - Dandy Warhol - 7.3
7. Christine von Oldershausen - Lady Gagga - 7.2
8. Melanie Tewes - Belsazar - 7.1
8. Anika von Holdt - Lambourghini - 7.1
10. Friederike Hahn - Destino - 6.6
10. Bente Kronborg Jensen - Remarque - 6.6
Frank Lange - Windhuk - RET
Back to the 2011 Bundeschampionate Index