2011 Bundeschampionate Qualifiers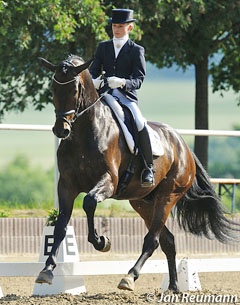 Dirty Dancing and Quiztime aced the Bundeschampionate qualification classes held at the regional show in Wolfskehlen on 25 - 26 June 2011. Especially the field of 5-year olds was well occupied with 13 entered horses. Three of them achieved the Bundeschampionate qualification criterium, while no 6-year olds scored 8.0 or higher. 
Klarissa-Alexandra Liss and the Hanoverian bred Dirty Dancing excelled in the 5-year old dressage horse division. The duo scored a very strong total score of 8.5 and topped the leader board. Tessa Frank and the Oldenburg branded Royal Nymphenburg (by Rubin Royal) were second with 8.2. The third placed rider was also the third to obtain a high enough score to qualify for Warendorf. Christiane Pollmann-Schweckhorst and the Westfalian Danny Ocean (by Damon Hill) achieved 8.0.
Jennifer Schön and the Mecklenburger premium stallion Quiztime (by Quando Quando x Black Magic Boy) aced the 6-year old dressage horse test with a 7.1 score. They referred Anja Schneider on the Hanoverian Bayard (by Breitling W) to a second place with 7.0.  Bärbel Hayf and the Oldenburg bred Ready Steady Go (by Rubin Royal) were third on 6.9.
Photo © Jan Reumann
Results
5-year old Dressage Horses
1. Dirty dancing - Liss, Klarissa-Alexandra - 8.50
2. Royal Nymphenburg - Frank, Tessa - 8.20
3. Danny Ocean - Pollmann-Schweckhorst, Christiane  - 8.00
4. Sun of Quaid - Maag, Ursula -  7.50
5. Laurice - Pfeiffer, Kim - 7.40
6. Sinatra M - Weishaupt, Wibke -  7.20
7. Fasten Seat-Belt - Thomas, Kevin  - 7.10
8. Moosbachhof's Fidalgo  - Galmbacher, Katja  - 7.00
9. Cabochon -  Henn, Saskia - 6.90
9. Botilas -  Schneider, Anja - 6.90
11. Demi Moore -  Hintenlang, Daniela  - 6.80
12. Ludwig der Sonnenkönig - Pfeilsticker, Anna - 6.70
Royal Bayou  - Rueben, Sabine  - RET/DNS
6-year old Dressage Horses
1. Quiztime - Schön, Jennifer - 7.10
2. Bayard - Schneider, Anja - 7.00
3. Ready Steady Go - Hauf, Bärbel - 6.90
4. Berlusconi - Hartmann, Ralf - 6.60
5. Cymmern Superior - Biffar Dr., Markus - 6.50
Back to the 2011 Bundeschampionate Index