2011 Bundeschampionate Qualifiers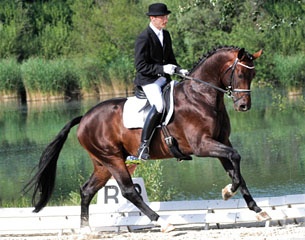 Devina and Franz Joseph dominated the young horses classes at the Bavarian regional Bundeschampionate qualifier held in Asbach, Germany, on 23 June 2011. A large field of 5-year olds showed up and even though there was a total of 27 horses in both age groups only two horses obtained the qualification scores: the winners of the classes, both ridden by Ralf Kornprobst.
In the 5-year old L-level dressage horse test Kornprobst steered the Baden Wurttemberger bred mare Devina (by Dacaprio) to a winning score of 8.3. Stefanie Schüle and the Westfalian branded Solero (by Sunny Day) were second with 7.8, followed by Alexandra Sessler on the Oldenburg Flaneur (by Furst Heinrich).
In the 6-year old division Kornprobst rode his already qualified Bavarian Franz Joseph (by Florencio) to another victory with an 8.4 score. Jessica Haag and the Trakehner bred Herbstzauber (by Insterburg) were far behind them on second place with 7.5. Alexandra Sessler was again third with the Hanoverian Sedona (by Sir Donnerhall I).
Photo courtesy Kornprobst
Results
5-year old Dressage Horses
1.  Devina - Kornprobst, Ralf - 8.3
2. Solero - Schüle Dr., Stefanie  - 7.8
3. Flaneur - Sessler, Alexandra - 7.7
4. Bardolino - Freytag, Patricia - 7.6
4. Wilander R - Lang, Meike  - 7.6
6. Sammy Davis jr. - Herbert Dr., Cornelia  - 7.5
6. Un Amore - Wadenspanner, Walter  - 7.5
8. Brenton - Fisch, Ferdinand Fabian - 7.4
8. Diego -  Friedberger, Alfons  - 7.4
10. Monaco Franze - Hilbert, Maria-Denise - 7.3
11. Diavolo F  - Friedberger, Alfons - 7.1
11. Fleura - Kufner, Ursula - 7.1
13. Sandmann - Pietsch, Gerhard - 7.0
14. Rubens Royal - Gold, Maximilian -  6.9
14. Da Vinci - Voglsang, Renate - 6.9
16. Mr-Monk - Braunmühl, Alexandra  - 6.6
17.  Ra-Inja della Luna - Chamsa, Clara - 6.4
18. Wera - Demharter, Kathrin - 6.3
Royal Pleasure - Pietsch, Gerhard - RET/DNS
6-year old Dressage Horses
1. Franz Joseph - Kornprobst, Ralf  -  8.4
2. Herbstzauber - Haag, Jessica - 7.5
3. Sedona - Sessler, Alexandra - 7.3
4. Daviano Carlo G  - Mang, Martina - 7.1
5. Lanya - Kufner, Ursula  - 7.0
5. Cadeau du ciel 10  - Pietsch, Gerhard - 7.0
7. Rubin -  Haag, Jessica -  6.8
8. Antonio - Kronaus, Kerstin - 6.5
Back to the 2011 Bundeschampionate Index