2011 Pan American Games Qualifier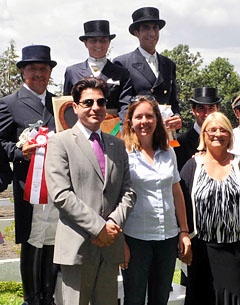 Mexico City based Bernadette Pujals took her second double victory in the second Pan American Games selection trial for Mexico, held at Rancho Nodin in the Estado de Méxicon area near Mexico City on 18 - 19 June 2011. Judged by American Natalie Lamping and French Raphael Saleh, the second Mexican Pan Am trial consisted of the Prix St Georges and Intermediaire I ridden on Saturday and Sunday.
With the 8-year old Danish warmblood bred Rolex (by Heslegards Rubin x Heslegards Louis) Pujals scored 69.93% in the Prix St Georges and had to put in a tough fight to keep Antonio Rivera on the 12-year old PRE bred Naval (by Oficial XXIX) behind her as he scored 69.29%. Pujals' student Omar Zayrik and the 11-year old Dutch warmblood Lord el Camino (by Vincent) slotted in third with 65.63%.
In the Intermediaire I Pujals was able to create a bigger gap with the competition. She won the class with 70,99% while Zayrik settled in second place with 67,63%. Jose Luis Padilla and the 14-year old Rhinelander bred Donnersberg (by Don Primero) finished third with 65,39%.
The Mexican Pan Am selection process is based on the four best results achieved in the PSG or Inter I at three official selection
trials. The final trial is at Estado Mayor Presidencial in Mexico City on 26 - 28 August 2011 and will be judged by Lorraine Mc Donald (CAN), Marian Cunningham "I"(PER) and Maria Collander (FIN).
Results
Prix St Georges
1. Bernadette Pujals - Rolex - 69,93
2. Antonio Rivera - Naval - 68,29
3. Omar Zayrik - Lord El Camino -  65,53
4. Jose Luis Padilla - Donnersberg - 64,93
5. Mariana Quitana - Byzantium Kevotiv - 63,75
6. Santiago Ortiz - Sjoery Bantha - 63,68
7. Maria del Mar - Royaal - 62,50
8. Masha Ugryumova - Soberbrio -  61,97
9. Santiago Ortiz - Cendro Z - 61,78
10. Lorena Morael - Tauro Mor -  61,51
11. Enrique Palacios - Waldemar - 60,00
12. Mariana Quintana - Bellagio Kevotiv - 59,54
13. Alberto Posada - Rusticano - 59,08
14. Guillermo Espinoza - Nazareno - 58,62
Intermediaire I
1. Bernadette Pujals - Rolex - 70,99
2. Omar Zayrik - Lord El Camino - 67,63
3. Jose Luis Padilla - Donnersberg - 65,39
4. Antonio Rivera - Naval - 65,20
5. Santiago Ortiz - Sjoery Bantha - 62,83
6. Mariana Quintana - Byzantium Kevotiv - 62,70
7. Mariana Quintana - Bellagio Kevotiv - 62,57
8. Alberto Posada - Rusticano - 61,38
9. Santiago Ortiz - Cendro Z  - 61,05
10. MAsha Ugryumova - Soberbio - 60,92
11. Lorena Morales - Tauro Mor - 58,36
12. Guillermo Espinoza - Nazareno - 57,83
13. Maria del Mar - Royaal - 57,76
Enrique Palacios - Waldemar - DNS
Related Links
Bernadette Pujals in the Lead at First Mexican 2011 Pan Am Games Qualifier
Scores: 2010 Central American and Caribbean Games