2011 Bundeschampionate Qualifiers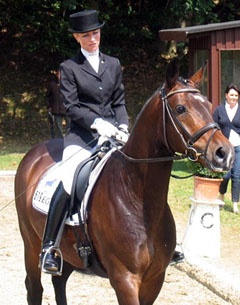 Fairytale, Desperados and Sagnol swept the board in the Bundeschampionate qualification classes at the Harsefeld Dressage Show in Bargstedt, Germany, on 17 - 19 June 2011. Nine horses achieved the selection criterium and three were placed first in a field of 28 horses in total.
Norwegian dressage rider Isabel Bache steered the Oldenburg stallion Fairytale (by Fidertanz x Quattro B) to an impressive 8.7 total score with an 8 for walk, 8.5 for canter and 9s for trot, submission and general impression. Laura Hassler and the Oldenburg stallion Rosengold OLD (by Rohdiamant x Diamond Hit) followed in a distance on second place with 8.2. They earned 8s for walk, canter and submission and 8,5 for trot and general impression. Anja Engelbart and Paul Schockemohle's Hanoverian stallion Der Designer (by De Niro x Weltmeyer) were third with 8.1.
There were two winners in the 6-year old dressage horse test with an 8.2 overall score: Desperados and Sagnol. Kathleen Keller and the Hanoverian gelding Desperados (by Danone I x Werther)  scored 9 for trot, 8.5 for canter and general impression and 7.5 for walk and submission. Jessica Otten-Willers and the Hanoverian stallion Sagnol (by San Remo x A Jungle Prince) got 8.5 for trot, canter and general impression, 8 for walk and 7.5 for submission. British born Susan Pape-Draper and the Hanoverian stallion Barclay (by Belissimo M x Prestige Pilot) slotted in third with 8.1. The chestnut stallion got a 7 for submission, 7.5 for walk, 8.5 for trot and general impression and 9 for canter.
Results
5-year old Dressage Horses
1. Isabel Bache - Fairytale - 8.70
2. Laura Hassler - Rosengold - 8.2
3. Anja Engelbart - Der Designer - 8.10
4. Annemarie Finger - Riverdance - 8.0
4. Katalin Garrn - Dresden - 8.0
6. Grete Linnemann - Scaramouche - 7.7
7. Anna Sophie Fiebelkorn - Hofliebe - 7.6
8. Annemarie Finger - San Bernadino - 7.5
8. Tessa Frank - Royal Nymphenburg - 7.5
8. Susan Pape - Fabregas - 7.5
11. Peter Koch - Ronaldo - 7.3
11. Hans Dieter Mangelsdorf - Delbar Estivale - 7.3
13. Kristina Heuer - Rishu - 7.2
14. Stefan Blanken - Doolittle - 7.1
15. Marco Buhrig - Seerose - 7.0
15. Peter Koch - Real Fascination - 7.0
17. Steffen Frahm - Lord Laurie - 6.8
17. Jan Andreas Viebrock - Snyders - 6.8
19. Holger Fischer - Risotto - 5.80
6-year old Dressage Horses
1. Kathleen Keller - Desperados - 8.2
1. Jessica Otten-Willers - Sagnol - 8.2
3. Susan Pape - Barclay - 8.1
4. Annemarie Finger - Hohenzollern - 8.0
5. Anna Sophie Fiebelkorn - Bellagio - 7.7
6. Christine von Oldershausen - Lady Gagga - 7.6
7. Simone Kruse - Semper Fidelis - 7.4
7. Jorn Kubelke - Helena - 7.4
9. John McCormack - Sonnenreiter - 7.2
Back to the 2011 Bundeschampionate Index