2011 World Championships for Young Dressage Horses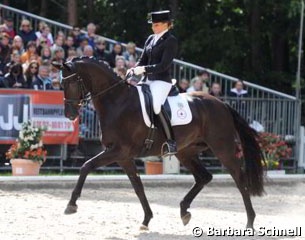 No systematic selection days, seminars and trainings sessions for the Germans; they pick their representatives for the 2011 World Young Horse Championships in Verden just on one day. Sixty-two horses are lined up for the German WCYH selection day in Warendorf, Germany, on 21 June 2011.
The selectors have to pick seven horses (and three reserves) per age division.
The German entries for their selection trial are:
5-year olds
Novia (by Stedinger x Alabaster) - Victoria Michalke
Paola (by Lord Loxley x Sandro Hit) - Christian Flamm
Professor Dumbledore (by Pasolongo x Matador) - Andrea Vodermaier
Radscha (by Rotspon x Wolkentanz I) - Ilsemarie Berkenbusch
Ravel (by Rotspon x Lauries Crusador xx) - Petra Stroetmann
Rihanna (by Ricardos x Sandro Hit) - Geertje Hesse
Royal Classic (by Royal Highness x Florestan) - Yvonne Reiser
Royalito (by Royal Blend x Worldly) - Sandra Frieling
Rubinio (by Roh Magic x Philipo) - Kristina Spaniol
Seneca (by Stedinger x De Niro) - Sabine Egbers
Shadow's Dream (by Sandro Hit x Rotspon) - Eckhard Wahlers
Showtime (by Sandro Hit x Rotspon) - Dorothee Schneider
Simply Nymphenburg (by Sir Donnerhall x Weltmeyer) - Tessa Frank
Sir Fashion (by Sir Donnerhall x Rosenkavalier) - Miranda Rongen (NED)
Sissy von der Heide (by Sandro Hit x Fidermark) - Holga Finken
Snap Shot (by Sir Donnerhall x Alabaster) - Nadine Plaster
So What a Feeling (by Sandro Hit x Ex Libris) - Katja Galmbacher
Standsfield (by Satisfaction x Graf Grannus) - Marco Buhrig
Stepp of Magic (by Samarant x Rubin Royal) - Victoria Michalke
Sunday (by Sandro Hit x Donnerhall) - Anja Wilimzig
Whitney (by Wolkensturmer x Fortissimo) - Lydia Camp
Bailador de Amor (by Breitling x Dimaggio) - Johannes Westendarp
Balesteros (by Belissimo M x Davignon) - Laura Hassler
Bentley (by Belissimo M x Weltmeyer) - Maria Andersen (DEN)
Branduardi (by Breitling x Weltmeyer) - Kathrin Meyer zu Strohen
Damon's Devine (by Damon Hill x Rubin Royal) - Helen Langehanenberg
De Champ (by Daddy Cool x Caprimond) - Anja Engelbart
Fairytale (by Fidertanz x Quattro B) - Isabel Bache (NOR)
Fasten Seat Belt (by Furst Piccolo x Sandro Hit) - Kevin Thomas
Flynn PCH (by Falsterbo x Walt Disney) - Marcus Hermes
Furstenball (by Furst Heinrich x Donnerhall) - Ines Westendarp
Hofliebe (by Hofrat x Wie Weltmeyer) - Anna Sophie Fiebelkorn
Loveliness (by Lord Loxley x Sir Shostakovitch xx) - Jana Freund
6-year olds
Wilson Pickett (by Wolkentanz I x Ravallo) - Esther Maruhn
Horatio (by Hochadel x Matcho AA) - Dorothee Schneider
Arietta (by Abanos x Lancer II) - Stefanie Wolf
Baron de Ley (by Breitling x Diego xx) - Brigitte Wittig
Bella Rosa (by Belissimo x Hohenstein) - Robin Beekink (NED)
Blanc Pain (by Peron Junior x Silvermoon) - Kristina Moller (DEN/LUX)
Wasabi OLD (by Welt Hit IV x Lancer I) - Victori Michalke
Damon Jerome (by Damon Hill x Guy Laroche) - Uta Gräf
Dandy Warhol (by Diamond Hit x Wittenberg) - Eckhard Wahlers
D'coeur Noble (by Don Crusador x Wanderer) - Ann Christin Wienkamp
Diamond Rex (by Dr Doolittle x Rubinstein) - Julia Funke
Don Bettino (by  Don Promero x Painters Row xx) - Christoph Koschel
For Romadour (by Furst Heinrich x Pik Bube I) - Wolfhard Witte
Franz Joseph (by Florencio x Coriograf B) - Ralf Kornprobst
Furstano (by Furst Heinrich x Brentano II) - Juliane Brunkhorst
Haydn (by His Highness x Wittinger) - Holga Finken
Hightime (by Hochadel x Walt Disney) - Annemarie Finger
Sonnenreiter (by Sir Donnerhall x Lord Sinclair) - John McCormack
Bellagio (by Belissimo M x Davignon) - Anna Sophie Fiebelkorn
FS Demiral (by Dimaggio x Hill Hawk xx) - Jana Freund
Pagalli (by Pasolongo x Wolkentanz II) - Max Wadenspanner
QC Sanvino (by Sandro Hit x Winrich) - Michele George (BEL)
Schickeria (by Sir Donnerhall x Weltmeyer) - Helen Langehanenberg
Sergio Rossi (by Sir Donnerhall x Rosenkavalier) - Kira Wulferding
Soliman de Hus (by Sandro Hit x Donnerhall) - Christian Flamm
Soulmate (by Sandro Hit x Calypso II) - Senta Kirchhoff
St. Emilion (by Sandro Hit x Ehrenwort) - Dorothee Schneider
Freak Blue Phantom (by Florencio x Feinbrand) - Kristina Moller (DEN/LUX)
Sunshine Lady (by Sir Donnerhall x Fidermark) - Stefanie Steinhauf
Photo © Barbara Schnell
Related Links
Eurodressage Coverage of the 2011 World Young Horse Championships
Eurodressage Coverage of the 2011 Bundeschampionate