Test Your Freestyle Knowledge Quiz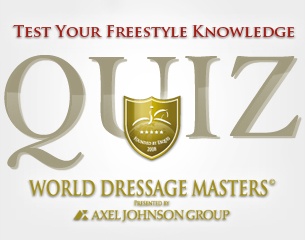 Are you the ultimate know-it-all Freestyle brainiac? Eurodressage.com, in co-operation with World Dressage Masters, has set up a special "World Dressage Masters' Test Your Freestyle Knowledge" Quiz in three instalments for the summer months.
Exclusive prizes can be won by those who are able to unravel the mystery sound clip which contains seven pieces of mysic from famous riders who have competed at the World Dressage Masters over the years.
The importance of the freestyle as a part of international championships, World Cup Finals as well as the World Dressage Masters  has been ever increasing. The freestyle is the one and only dressage competition class with can bring the crowds to their feet and emotions to a boiling point. The sport has never been more beautiful than in the artistic, artful Kur to Music.
Are you the King or the Queen of the Freestyle? When you hear music on the radio, do you also go: "oh that's Anky van Grunsven's music"? Do you think you know everything about the kurs to music? Eurodressage is going to test your knowledge of the kur and you can win fantastic prizes with it!!
What can You Win?
The winner of each monthly quiz wins two prizes at once. S/he will win an official World Dressage Masters T-shirt autographed by Matthias Rath at the CDI Munich, where he had his winning show debut with Totilas, as well as a high quality 40 x 60 cm poster of a rider of their choice from the Eurodressage Photo Database. Furthermore perpetual glory is bestowed upon the winner who will be mentioned on the site as "Queen or King of the Freestyle". 
Do you have what it takes to be the "2011 WDM Grand Freestyle Quiz Champion." All your answers will be saved and those who have answered all three instalments correctly will be in the running to win two exclusive V.I.P. tickets to any World Dressage Masters  competition of their choice for the 2012 show circuit.
1.
Two V.I.P. Tickets
2.
a Photo Poster of your choice
3.
An autographed T-shirt
How Does it Work?
Below you see a sound bar where hear the selected music. After the introduction fanfare, you will distinctly hear seven freestyles in total, of which six are "modern" ones and one is a golden oldie. The sound track ends with a final fanfare. You will be able to clearly distinguish which the freestyle musics are. Can you guess which horse and rider were competing to which tune?
Email us at freestylequiz@eurodressage.com with your list of seven combinations (rider's name + horse's name) and the first one to submit all answers correctly will win the T-shirt and poster. All correct answers will be saved as those people remain to be in the running to become the 2011 WDM  Grand Freestyle Quiz Champion.
Test Your Freestyle Knowledge - Part I: Piaffe and Passage

For the June "World Dressage Masters' Test Your Freestyle Knowledge" Quiz we have selected seven pieces of music which are all piaffe-passage music. Do you know whose famous kurs are these?
Deadline

The deadline will be 30 June 2011 - 23.00h GMT. The first week of July we will post a video with the riders performing to their music. We're sure that once you see the video footage, you'll slap your forehead and go "Of course That's it"
Email your answers at freestylequiz@eurodressage.com
Good luck and have fun!!
Please visit the World Dressage Masters and make sure you join the WDM on Twitter and Facebook