Oldenburg Breeding News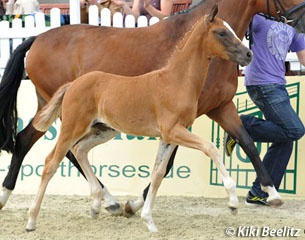 A Sungold filly and Floriscount colt became the winners of the Foal Selection Show at Hof Kasselmann in Hagen, Germany, on Sunday 12 June 2011. Eight fillies and ten colts qualified for the 2011 German Foal Championships held in Lienen, Germany, in July.
The champion filly was a Sungold x Davignon offspring, bred by Jurgen Helm from Bissendorf. This talented young mare scored 81,5 points and left a Fidertanz x Sandro Hit filly behind her. She is bred by Frank Moormann and scored 79,5 points.
The champion colt was a chestnut Floriscount x Sunny Boy offspring bred by Ludger Emke from Cloppenburg. His colt scored 84 points and referred Johannes Westendarp's Fürstenball x Wolkentanz II colt to a second place with 81,5 points. Dr. Kerstin Klieber acquired the champion colt on the spot. Another Furstenball offspring placed third: He is bred by Alfons Brünen out of a Sandro Hit dam.
Photo © Kiki Beelitz
Results - Hagen Foal Selection Show
Fillies - Qualified for the 2011 German Foal Championship
1. Sungold - Davignon I, Breeder: Jürgen Helm, Bissendorf, 81,5 pts
2. Fidertanz - Sandro Hit, Breeder: Frank Moormann, Wettrup, 79,5 pts
3. San Amour - Donnerhall, Breeder: Günter Meyer, Hausstette, 78,5 pts
4. Bordeaux - Dormello, Breeder: Georg Pries, Rheine, 78 pts
5. Sir Donnerhall I - Rubin-Royal, Breeder: Christina Dürschlag-Wahrendorf, Wendeburg 75,5 pts
6. Fürst Nymphenburg - Rotspon, Breeder: Tobias Große Lembeck, Warendorf, 75 pts
7. San Amour - Akribori,  Breeder: Karl Cramer, Coesfeld, 73 pts
7. Sir Donnerhall I - Adelinde, Breeder: Katja Spilker, Detmold, 73 pts
Colts - Qualified for the 2011 German Foal Championship
1. Floriscount - Sunny Boy, Breeder: Ludger Emke, Cloppenburg, 84 pts
2. Furstenball - Wolkentanz II, Breeder: Johannes Westendarp, Wallenhorst, 81,5 pts
3. Furstenball - Sandro Hit, Breeder: Alfons Brünen, Neuenkirchen, 81 pts
4. Bordeaux - Donnerhall,  Breeder: Dr. Frank Nordhausen, Suhlendorf, 80,5 pts
5. Blue Hors Romanov - De Niro,  Breeder: Rudolf & Marianne Pax, Bad Iburg, 80 pts
6. Sir Donnerhall - Wolkentanz,  Breeder: Carsten Müller, Neustadt, 79,5 pts
7. Furstenball - Danny Wilde, Breeder: Mathias Schirmer, Lacka, 79 pts
8. Sir Donnerhall I - De Niro, Breeder: Hans-Hermann Winkelmann, Bohmte, 78 pts
8. Sir Donnerhall I - Harvard,  Breeder: Zuchthof Vogtei, Recke, 78 pts
8. Fürst Romancier - Pik Donnerhall, Breeder: Carmen Koop, Olpe, 78 pts
Related Links
Romanov and Diamond Hit Produce Winners at 2011 Lodbergen Foal Selection Show
Eurodressage Stallion at Stud: Furstenball