2012 Olympic Games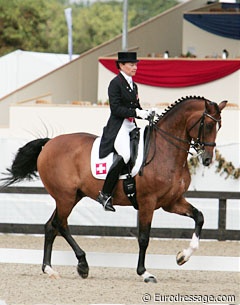 It is the dream of many dressage riders to one-day make it to the Olympics. To represent one's country and compete against the very best the world has to offer. However for many that dream will never become a reality, as the path to the Olympics becomes more and more cluttered with red tape and giant hurdles.
Naturally you have to be competing and winning in Grand Prix in your own country, which is already an achievement in itself. You also need to gain the minimum eligibility standard (MES) as set by the FEI. And although this is difficult to obtain, this is just the beginning.
After obtaining the MES a rider must be from a nation that has either qualified a team, or they must qualify themselves as an individual, according to an international ranking system.
If this sounds complicated, just wait.
Every individual, depending on their nation's status and location, has a unique path they must follow if they are to make the ride down the centreline next year in London. The MES demands that a minimum 64% must be attributed twice to the athlete/horse combination by both a 5* star judge, and as an average from all judges in the competition.
Sounds easy?
In addition, the score must be achieved in a Grand Prix tests at two different CDI3*/CDI4*/CDI5*/CDI-W/CDIO events.
ok anything else..?/P>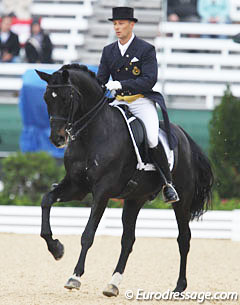 The two 5* judges must be of a nationality other than of the athlete.
So once that is achieved the rider needs to consider their place in the world, whether their nation has qualified a team, or whether their nation has been granted an individual quota accroding to the Olympic ranking system.
For nations with a team it is obviously more easy to qualify and there are a number of ways to achieve that.
First, the top 3 teams at WEG automatically qualify. So The Netherlands, Germany and the U.S.A are in as the host nation, Great Britain, is automatically qualified. Then, the 3 best ranked teams at the 2011 European Championships (excluding the three teams already qualified) are added to the mix. Finally the 2 best ranked nations from the Pan American Championships and 2 from the Asia Pacific area, also make the cut.
Countries like Sweden, Switzerland, France, Spain, Portugal, Belgium and all the other European countries therefore have their work cut out for them, as only 3 of them can gain a team entry spot from the 2011 European Championships. If they fail to do so then an individual representative is the only other option. However, to make it easier for a team team to qualify, a country can also do so through qualifying 3 individuals.
Of course they do have the luxury of having the qualifying events right at their doorstep. Consider nations like Australia or New Zealand, that are located on the other side of the world!
Australia, for example, is in FEI Groups F & G, and this region must qualify a team through a Regional Championship, with the best 2 countries qualifying for a team place.  The Grand Prix level countries are Australia, New Zealand and Japan, however due to the strict quarantine laws in each country, the championship does present its own set of problems. As these countries have the horses spread around, they have themselves requested this split of qualifiers to be held in Europe and Australia (changed from NZL), in order to not having to ship the horses around the world. This is both a horse welfare and a cost issue.
The FEI have now approved that the Regional qualifier will be held in Europe and Australia (in Sydney in conjunction with the Australian Dressage Championships) in October this year. This means that 5 judges need to travel to both locations, and two of them have to be 5-star judges.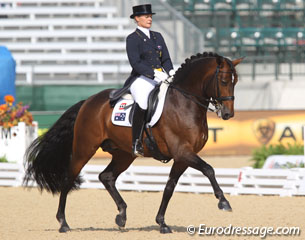 Once the countries have jumped through the hoops to qualify for their region, riders from these countries seeking nomination for their national dressage team will have to travel to Europe to compete in 2 CDI events where selectors will be present and selection will be made based on those competitions in conjunction with the performances during 2011 and 2012.
Sounds complicated? It gets worse!
If a nation fails to qualify a team they must qualify as individuals. The FEI has put in place an Olympic Ranking System which runs from 1 March 2011 to 1 March 2012, based on the rider's best 8 performances in this period. After countries have qualified, this list will be used to identify countries which have qualified individuals and also determine which nations have qualified extra individuals to accompany their qualified team.
So you would think that if you had a good ranking, and your ranking granted your nation an allocated spot for an individual, that you would be on your way to London. Keep in mind that  the IOC has common rules for all sports, one example being that all Olympic slots are obtained for the country, not for the individual, i.e. It is always up to the National Olympic Committee to chose the actual participants, and that there must be a geographical representation.
Wrong!
The list selection process only identifies the nations that have qualified an individual spot. This has nothing to do with selection of riders however, this only qualifies a quota place. The rider must still prove their spot in their own nation.
Simple!
by Sarah Warne for Eurodressage.com
Photos © Astrid Appels
Related Links
Oceania Leg of Olympic Qualifier in October 2011
Markowski Appointed Technical Delegate for 2012 Olympic Games