2011 World Championships for Young Dressage Horses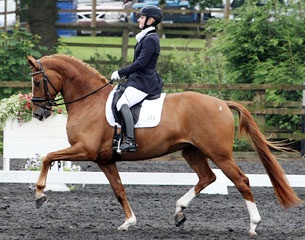 For American Marne Martin-Tucker a getting-her-toes wet in the young horses classes with her 6-year star mare Royal Coeur has ended up in a U.S. entry ticket for the 2011 World Championships for Young Dressage Horses in Verden, Germany, 3 - 7 August 2011. Though qualifying for Verden has been serendipity, the Maryland based rider is grasping the opportunity with both hands.
At the Somerford Park Premier League dressage show in Cheshire on 28-30 May, Martin-Tucker and her 6-year old Oldenburg bred mare Royal Coeur (by Royal Hit x Le Coeur) won the FEI 6-year old horse test with 8.36. The class was judged by O-judge Stephen Clarke and (British Grand Prix rider) Peter Storr. The combination earned a 9 for trot, which Clarke commented as "outstanding" in British magazine Horse and Hound.
"This is so exciting," said a beaming Marne Martin-Tucker.  Her 8.36 score is the second highest U.S. qualification score for 6-year olds and the mark also qualified her to compete at the 2011 British Young Horse Finals held at the 2011 CDI Hickstead World Dressage Masters. 
The Oldenburg Connection
Marne bought Royal Coeur in April 2009 at the Vechta Spring Elite Auction. "I decided on her because she had three excellent gaits, a lot of power, tall with long legs, but also seemed to be built in a way that collection would not be a problem for her," Marne reminisced. "I was impressed by her big movements, including the walk, and she was hot enough that I thought she would be a horse that could do the GP one day without a whip."
The talent of Marne's mare is not only apparent from her movement mechanism, but also in her willingness to work. "She loves to work, but can be a bit fresh and has lots of energy," Marne explained.  "Her intelligence is off the chart, the movements are all easy for her and she learns so quickly.  She is incredibly supple so I have to focus always on straightness, and building strength. I don't need to ride with a whip with her at all, which bodes well for the future.  She likes to move big and gives it her all. She loves her work and gets satisfaction in doing it well."
Marne Martin-Tucker and her horse loving husband Michael Tucker live at Aspen Leaf Farm in Maryland. Marne, who grew up on cattle ranches in Oregon, Montana and Wyoming, is an active member of the North American Oldenburg Horse Breeders' Society, volunteering her time and energy for the organization of the All Breeds Year End Awards with the U.S. Dressage Federation. Marne has several brood mares and foals in the Oldenburg area in Germany and regularly visits the area to connect with Americans during their "Oldenburg experience" alongside Holly Simensen."Without a supportive husband, I couldn't do all this," Marne admitted. "He gives up a lot of time to the horses, and at the same time gives me a huge amount of personal support and encouragement. As you know, there are always ups and downs in this sport and you need to remember that regardless to have fun!"
It's All About Confidence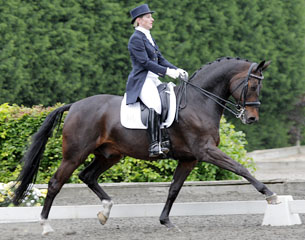 After having trained in Germany with Markus Gribbe for several years, Martin-Tucker had to shift her attention back to being fulltime in England as her job in London was taking up more time each day. She moved her Grand Prix horse Escobar (by Ehrentusch x Akitos xx) as well as her young mare Royal Coeur to the stables of Natalie Allen in Warwickshire, England.
The biggest change in her riding since moving her training base from Germany to England has been the steadily growing confidence of both rider and horse. "It's all about confidence," Marne told Eurodressage. "Because Royal Coeur has such big gaits, I needed to realize not to "over-ride" which can make her tense. The more relaxed I am, the mare matches me and does the same.  We are a real partnership now.  It has really helped that I am the main one that rides her now with her being in England."
With the help of Allen, Ferdi Eilberg as well as Siegfried 'Bimbo' Peilicke, who is regularly clinicing there, Martin-Tucker has been feeling more secure in the saddle. Royal Coeur has made a tremendous spurt on the learning curve and has settled into the work for 6-year olds, now slowly schooling the beginnings of the Prix St Georges.
Marne and her 14-year old Westfalian bred Grand Prix gelding Escobar have recently broken the magical 70% marker for the first time. They were second in the Addington Premier League in May with 69.4% and won the CDN at Valeview in Leicestershire with 71.1%. Escobar was a licensed stallion in Germany before his performance career with Marne. She acquired him as a gelding at a dressage yard in Belgium and is now in her second year at Grand Prix with him. "This horse is a piaffe and passage machine, with no weak link in his Grand Prix work," judge Storr told Horse and Hound.
As Marne is full-timed employed as Chief Financial Officer and member of the Board of Directors for a publicly traded international consulting company, she trains her horses "four real days a week with a few easy days. Ferdi comes a few times a month to keep us on the right track and to trouble-shoot things.  Natalie provides eyes on the ground and rides her for exercise when I am away on work trips, and then helps me at shows just to see.  I have had to learn sometimes that even if the feeling is not perfect, it still can look super, but I am still a rider that focuses on the feeling and what is ideal for me is to have the best feeling with the best result from what it looks like."
Marne is incredibly excited to go to Verden because her mare continues to progress. "She is doing really well and each month she gets stronger. I can do easily three flying changes on the diagonal now and half-steps outside keeping it fun. She can already do easily the PSG trot work and has super high quality lateral work. The half passes are especially good. For me Verden, will just be about getting her settled in and comfortable where she can be confident enough in the ring. She is very intelligent so as long as she has a chance to see and get acclimated, she does fine."
U.S. Representatives Announced after 20 June 2011
With the American qualification period closed six U.S. horses have fulfilled the criterium to compete at the World Championships, though only the highest two scoring horses per age division are selected to go. The United States Equestrian Federation will announce the actual representatives after 20 June 2011.
U.S. young horse coach Scott Hassler confirmed that the horses with the highest scores will be picked. "We must clarify all paperwork and breeding credentials which we are in the process of doing," Hassler told Eurodressage. "Assuming all credentials are fine, horses receiving invitation to compete are given by highest scores. This year we have three horses in the 5-year old division, two qualified in our selection trials, one in Europe. We also have three 6 year olds qualified, one from our selection trials, two from Europe."
Each American eligible to go to Verden has to sign a declaration form which says the riders/owners carry all the financial responsibility for going. This has dissuaded many U.S. based riders to venture across the pond as the trip costs approximately 30,000$. For Marne and Royal Coeur the journey to Verden would not be a huge one. Their 500-mile trip from the U.K. to Verden is certainly less invasive in the horse's life than a flight from the U.S.
With little over two months to go before the World Championships Marne explained that she will keep training as normal, working on bulding strength and keeping her horse happy. "The movements in the test are all easy for her, so just need to build consistency and to keep working on polish and power with relaxation."
Text by Astrid Appels
Related Links
Eurodressage Coverage of the 2011 World Young Horse Championships
Somer Hit and Aesthete Win Eastern U.S. Young Horse Qualifier for Verden
Sanceo and Sir Deauville Win Second U.S Young Horse Trial for Verden
Wagner In the Picture at First 2011 U.S. Young Horse Selection Trial for Verden