FEI Dressage News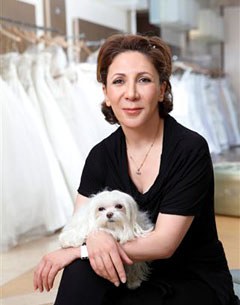 International fashion designer Reem Acra, sponsor of the prestigious FEI World Cup™ Dressage series, is supporting the Best Athlete category of the FEI Awards for the second consecutive year.
The Beirut-born designer, whose clientele includes celebrities such as Angelina Jolie, Halle Berry, Beyonce Knowles, Catherine Zeta-Jones and Eva Longoria, built her successful design business with the same drive and determination that takes equestrian athletes to the summit of the sport. Commenting on the FEI Awards, which were launched  by the governing body of international horse sport in 2009 to reward talent in and out of the arena, Reem Acra said: 
"I am delighted to support the Best Athlete Award again this year. I have seen equestrian sport at its best and I know from my experience in the fashion world how tough it is to succeed when there is so much talent to compete with. This FEI Award will go to an athlete who has combined focused ambition with fair play, to a horse whose outstanding character and performances have endeared it to the public or to a really remarkable human and equine partnership. I hope the entire equestrian community will seize this opportunity to nominate their heroes, as it is a way of thanking them for the pleasure their inspirational performances have given us."
Last year's Reem Acra Best Athlete Award went to a combination – the superstar Dutch duo Edward Gal and Totilas – for their memorable contribution to equestrian sport. Gal, whose partnership with the much-loved black stallion ended in style in 2010 with, notably, three gold medals at the Alltech FEI World Equestrian Games™ in Kentucky, said that receiving the award had been "the icing on the cake".
This year's winners will receive their awards in November at a gala evening in Rio de Janeiro, Brazil, where the FEI General Assembly is taking place.
Nominations for the five-category FEI Awards (Reem Acra Best Athlete, HSBC Rising Star, Against All Odds, Development and Best Groom) are open until 31 July at www.feiawards.org.
Related Links
Nominations Now Open for FEI Awards 2011
FEI Award-Winning Grooms Says Employer's Nominations Boost Motivation