2011 CDN Flemalle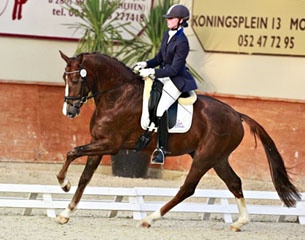 The Belgian young horse circuit seems to be dominated by a solid triumvirate of 4-year old Chopin, 5-year old Bon Bravour and 6-year old Don Massimo. This trio of youngster has been winning every single young horse show which counts as qualifier for the 2011 World Young Horse Championships in Verden, 3 - 7 August 2011.
At this fourth Belgian selection trial for Verden, these three horses booked their third victory of the season putting them firmly in the lead of the provisional ranking. The two highest scoring horses of the season in the 5 and 6-year old division will be picked to represent Belgium in Verden. Three more qualifiers lie ahead: Herentals (11 June), Hulsterlo (19 June) and St. Genesius Rode (2 July).
At the qualifier in Flemalle last weekend, Dominique Mohimont and the Dutch warmblood Chopin (by Jazz x Zepp) won the 4-year old division with 76,605 points. Former young rider Isabel Cool and her liver chestnut KWPN bred Constand (by Vic x Jetset D) were second on 73.645. Mario von Orshaegen and the Hanoverian licensed stallion Lorenzo Lamas (by Laurent x Walhall) were the winners of the first trial in Zandhoven, but in Flemalle they slotted in third with 73.447.
The 5-year old division was won by Tom Franckx-Goen and his Dutch owned KWPN stallion Bon Bravour (by Painted Black x Chronos). These "trophy-thieves" have become unbeatable and with 77,500 points there were well ahead of Dominique Mohimont and the Dutch warmblood Botticelli (by Vivaldi x Koss x Pion) on 75.013. Tom Heyelen and Gucci H (by Gribaldi x Wundermeyer) ranked third with 67.750.
"Herentals will the last qualifier for Bon Bravour," said the stallion's owner. "He already had a busy season and it's time for him to slow down a bit so that the horse can be prepared in all quietness for the World Championships in Verden."
Larissa Pauluis and her Oldenburg bred Don Massimo (by Don Larino x Santander H) reigned in the 6-year old dressage horse test with 76.048 points. They kept Simon Missiaen and the Oldenburg stallion Rousseau's Topas (by Rousseau x Rohdiamant) at bay. This young duo scored 74.060 points while Verena Gielen-Burger and the Rhinelander Maxifun (by Munchhausen x Saros xx) were third on 71.536 points.
"We're currently second in the provisional ranking and hope that we can keep this spot, so we can go to Verden," Missiaen commented.
Results
4-year old Dressage Horses
1. Mohimont Dominique - Chopin - 76,605
2. Cool Isabel - Constand - 73,645
3. Van Orshaegen Mario - Lorenzo Lamas - 73,447
4. Missiaen Simon - Kirmen de Mars - 71,039
5. Samyn Anemone - Zingaro des Quatre Chemins - 70,237
6. Dries Mieke - Bonavonturo vd Kempenhoeve - 69,513
7. Van Hulsen Yehudi - J2L Dark Chocolate - 68,750
8. Goen-franckx Erik - Celene - 67,895
9. Vettenburg Michelle - Happy Dance vd Burggrave - 67,276
10. Van Bambost Steve - Concerto - 66,592
11. Dupont Melanie - Hippy des Bruyeres  - 61,500   
5-year old Dressage Horses
1. Franckx-goen Tom - Bon Bravour - 77,500
2. Mohimont Dominique - Botticelli - 75,013
3. Heylen Tom - Gucci 'H' - 67,750
4. Michiels Els - Gloria VD Wateringhoeve  - 67,462
5. Hannes Jeroen - Galliani Biolley - 66,463
6. Renson Benedicte - Shokolata - 66,313
7. De Reus Benjamin - Leoville las Cases - 64,612
8. Collard Rose-marie - Balaika - 64,387
9. Vettenburg Michelle - Dartagnan - 62,938
10. Jacobs Nick - Sandrina - 62,725   
6-year old Dressage Horses
1. Pauluis Larissa - Don Massimo - 76,048
2. Missiaen Simon - Rousseau's Topas - 74,060
3. Gielen-burger Verena - Maxifun - 71,536
4. Prevost Amandine - Lacoste - 69,274
5. Roos Etienne - Fil Rouge - 68,583
6. Nyssen Wim - Ronda - 68,310
7. Dries Mieke - Fantast Van De Kempenhoeve - 67,964
8. Vangoidsenhoven Vicky - Sir Gioveto  - 65,250
9. Michiels Els - QC Roberto Cavalli - 64,000
Related Links
Chopin, Bon Bravour, Don Massimo Repeat Success at 2011 CDN Schilde
Chopin, Bon Bravour, Don Massimo at the Top at 2011 CDN Zandhoven
Belgian Young Horse Show Circuit Kicks Off at CDN Zandhoven
Belgian Qualifiers for the 2011 World Young Horse Championships in Verden