2011 World Championships for Young Dressage Horses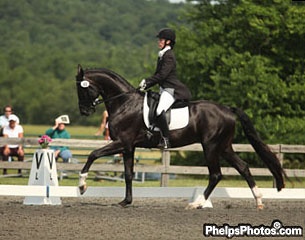 Somer hit and Aesthete were the grand winners of the U.S. East Coast World Young Horse Championships selection trial held at the VADA/NOVA Summer Dressage at Morven Park in Leesburg, VA, on 3 - 5 June 2011. In front of judges Jane Ayers, Linda Zang and Natalie Lamping, Lauren Chumley's Somer Hit tabulated a high enough total score to be  the only horse at this show to achieve the American selection criterium of 8.2 or higher.
Lauren Chumley and the black Hanoverian stallion Somer Hit (by Sandro Hit out of Rhussia (by Rotspon)) scored 83.4 in the preliminary test (counting for 40% of the total average) and 8.400 in the finals test (counting for 60%), which can down to a 8.376 grand total. The refined looking black stallion is owned by Alice Tarjan and was bred by Mo Swanson at Rolling Stone Farm. Somer Hit received the highest marks for trot and canter.
The 26-year old Chumley, who studied biology at Ohio State University, has been an assistent trainer to Silke Rembacz until April 2011. Before that the Frenchtown, NJ, based rider made her mark riding Norwegian Fjords for Sorum Fjord Horse Farm. She won the 2007 national championship in Eventing aboard the 13.3 hh SNF Maarta and in 2008 she won the National Dressage Pony Cup with Nyewyn, a liver chestnut Welsh Pony–Morgan cross.
Danish Ulla Parker-Petersen placed second in the 5-year old division aboard Nancy Holowesko's Oldenburg mare Biscaya. The Johnson x Argentinus offspring was bred in Germany by Claus Hüppe but now calls Crosiadore Farm her home, where Parker is head rider. Biscaya scored 79.596 in the preliminary test and added a notch in the finals ranking second with 8.02. Their total average was 7.996 points.
Parker is originally from Odense, Denmark, and came to Florida to work for Danish Lars Petersen. The 33-year old accepted the job as head rider of Holowesko's Crosiadore Farm in Trappe, MD, several years ago and trains Nancy's carefully bred young Oldenburg and Hanoverian horses for dressage.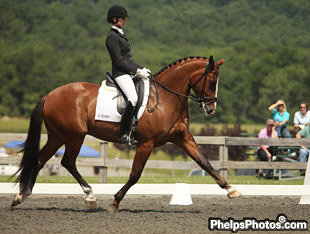 In the 6-year old division Silva Martin led Faye Woolf's Dutch warmblood gelding Aesthete (by Trento B x Gribaldi) to victory by scoring 83.400 in the preliminary test and 8.02 in the finals. They missed out on reaching the Verden qualification score by a fraction as they averaged 8.148 points. The judges called Aesthete's trot work "elastic" and "cadenced" which earned him high 8s. The bay gelding, bred by the Van der Steen brothers in The Netherlands, was the 2009 American Young Horse Champion as a 4-year old (then ridden by Karen Monks Reilly).
For Silva Martin competing at this Eastern selection was not an obvious thing to do. Last week tradegy struck the Martin family as her husband eventer Boyd Martin's True Prospect Farm in West Grove, PA was destroyed by fire which took the lives of six horses. Four survived and are under veterinary care. All of Silva's dressage horses were stabled separately and remained safe. However Aesthete's owner Faye Woolf also had an event horse, Call Me Ollie, at the yard and he was one of those that perished.
The Dutch born American Jules Nyssen finished second in the 6-year old class aboard his own black KWPN gelding Allegro (by Son de Niro x Ferro). He scored 77.200 in the first round and got 7.96 from the panel of judges in the finals' test. Their overall average was 7.864. Allegro is bred in The Netherlands by Mr Seelen.
With all three U.S. Young Horse Selection trials for Verden being held, three horses have been able to qualify for the World Championships. They are Emily Wagner's Wakeup, Sabine Schut-Kery's Sanceo and Lauren Chumley's Somer Hit. However, there are a few more horses based in Europe who have achieved the qualification score on European soil and will be considered as U.S. representatives in Verden.
Photos © Mary Phelps - More show coverage of this event at www.dressagedaily.com
Results
5-year olds - Preliminary Test - Finals Test - Overall Score

1. Lauren Chumley - Somer Hit - 83.400 - 8.400 --- 8.376
2. Ulla Parker - Biscayas - 79.596 - 8.02 --- 7.996
3. Christina Vinios - Folkestone - 78.000 - 8.02 --- 7.932
4. Christopher Schruefer - De Feiner Star - 77.400 - 7.600 --- 7.656
5. Wanja Gerlach - Elfenperfekt - 73.600 - 7.38 ---- 7.388
6-year olds - Preliminary Test - Finals Test - Overall Score

1. Silva Martin - Aesthete - 83.400 - 8.02 --- 8.148
2. Jules Nyssen - Allegro - 77.200 - 7.96 --- 7.864
3. Ashley Wimmer - Somerhall - 77.200 - 7.7 --- 7.708
4. Ulla Parker - Sabati - 76.400 - 7.7 --- 7.676
5. Emily Copeland - Festivo RS - 74.600 -  7.44 --- 7.448
Related Links
Back to the Eurodressage 2011 WCYH Index
Sanceo and Sir Deauville Win Second U.S Young Horse Trial for Verden
Wagner In the Picture at First 2011 U.S. Young Horse Selection Trial for Verden