German Dressage News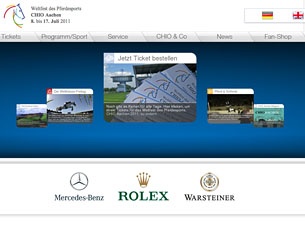 "Ultra modern and emotional," that is the description the CHIO organizers have given to their new website for the World Equestrian Festival, CHIO Aachen. "The brand-new www.chioaachen.de is the focal point of a innovative initiative
that the organisers of the most famous equestrian sport event in the world have just presented."
 
Large format photos form the central element of the new pages. Whether they depict the sport, a concert or a gala evening: Emotions are conveyed on a big scale and the many facets of the CHIO Aachen are clearly underlined. Navigating through the website occurs almost intuitively, the contents can be selected directly via the big photos.
"Most people are already familiar with this 'touch-character' from their modern Smartphones," commented Frank Kemperman, Chairman of the Aachen-Laurensberger Rennverein (ALRV). This so-called "Cover-Flow" is enhanced by six navigation points: Tickets, Program/Sport, Service, CHIO & Co, News and Fan Shop. "This guarantees that all necessary information can be found fast," explained Kemperman.
"The CHIO Aachen," said Michael Mronz, "stands in direct competition with other major leisure-time events  – opera festivals, Premier League football and Formula 1 racing." He stated further that innovations are essential in all areas in order to assert oneself at top level. After the infrastructure of the traditional showgrounds at the Aachen Soers have been extensively expanded and renovated over the past years, money is now also being invested in the new media sector.
Besides the new Internet site Mronz additionally presented a new cutting-edge ticket system as well as a press Intranet. This Intranet allows all information to be placed directly onto the notebooks of the journalists without delay, moreover the media representatives will be provided with extensive background information.
The website is hosted by NetAachen GmbH, who has been the official telecommunications service provider of the CHIO Aachen since the year 2000. Hence, the company's CEO, Andreas Schneider, is familiar with the peculiarities of the event and the resulting demands:
"During the event the server has to cope with over 35 million clicks and parallel to this the results of 5 disciplines have to be displayed online," said Schneider, stating just two of the challenges.
The Aachen-based agency, "Power & Radach GmbH", which was able to convince the CHIO organisers with its concept in advance, was responsible for the layout and programming of the new Internet site.
"The multimedia presentation of the leading international equestrian sport event is a wonderfully diversified task that we are investing a lot of creativity and ambition in, but which is at the same time proving to be great fun," commented the company's CEOs, Bernd Steinbrecher and Carlo Blatz .
Related Link
2011 CDIO Aachen - Table of Contents