2011 Bundeschampionate Qualifiers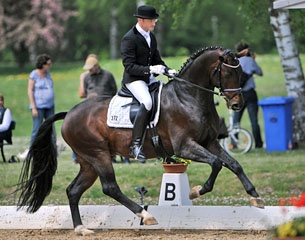 The 2011 CDI 3-star Munich not only hosted a leg of the World Dressage Masters, but also a national Bundeschampionate qualification class for 6-year old dressage horses. Ralf Kornprobst topped the field aboard Christian Buchner's Bavarian stallion Franz Joseph (by Florencio x Coriograf B).
With 8s for walk and trot, 8.5 for canter and general impression and 9 for submission, Kornprobst and Franz Joseph totalled 8.40 and won the class. 
Aubenhausen based Benjamin Werndl finished second aboard the Hanoverian gelding Dante's Peak (by Dimaggio x Wolkentanz I). He got a 9 for trot and 8s for walk, canter and general impression, but lost points on submissiveness (7) to score 8.0 in total. 
Dorothee Schneider and Sven Rothenberger's Hanoverian gelding Horatio (by Hochadel x Matcho AA) tied on second place with 8.0. They got 8 for canter, submission and general impression, 8.5 for walk and 7.5 for trot.
Photo © TS-Foto.de - courtesy Kronprobst
Results
6-year old Dressage Horses
1. Ralf Kornprobst - Franz Joseph - 8.4
2. Benjamin Werndl - Dante's Peak - 8.0
2. Dorothee Schneider - Horatio - 8.0
4. Franziska Stieglmaier - Fackeltanz OLD - 7.8
5. Victoria Michalke - Wasabi OLD - 7.1
6. Benjamin Werndl - Royal Spirit - 6.90
Related Links
Back to the 2011 Bundeschampionate Index
Scores 2011 CDI Munich