2010-2011 Imperial Riding Cup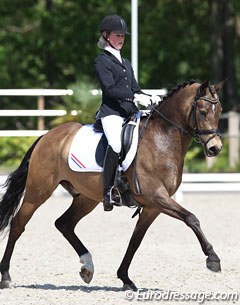 The Wijk en Aalburg based pony rider Sanne Vos booked her fifth victory out of six at the final 2011 Imperial Riding Cup Qualifier for Dutch FEI Pony riders held at Equestrian Centre Gert van den Hoorn in Kootwijk, The Netherlands, on Saturday 28 May 2011.
Aboard the 7-year old German Riding Pony Champ of Class (by Champion de Luxe) Vos scored 73.15% and was the best rider in a field of 36 competitors in total. Febe van Zwambagt and her refined black New Forest Pony Prince Z (by Make my Day) were second with 72.36%, while Vos also ranked third aboard her schoolmaster Just You 'n Me with 69.81%.
The qualifier in Kootwijk was the last in a series of six. The three best results of each rider count for the ranking, which is led by Vos with a maximum of 60 points.
The top 12 ranked combinations in the series have qualified for the 2011 Imperial Riding Cup Finals which are held on 12 June 2011 at Outdoor Gelderland in De Steeg, where the Dutch Dressage Championships will be held.
Photo © Astrid Appels
Results - 2011 Imperial Riding Cup Qualifier Kootwijk
1. Sanne Vos - Champ Of Class -73,15
2. Febe van Zwambagt - Prince Z  - 2,36
3. Sanne Vos - Just You 'n Me  - 69,81
4. Jelle Peeters - Nandor  - 66,02
5. Rachell Fokker - Majos Cannon  - 65,56
6. Jil Verbeek - Tonkawa Sd - 65,37
7. Sanne Gilbers - Daylight - 65,14
8. Marjan Hooge - Mr Matcho - 64,54
9. Melody Vroom - Balthasar's Hero  - 64,44
10. Rosalie Bos - Liberty - 64,35
11. Demy Kurstjens - Ciske - 64,26
12. Lotte Meulendijks - Armani  - 63,94
13. Kirsten Dirks - Silver Shadow  - 63,89
14. Josine Blommestijn - Holthausen Sindar - 63,43
15. Laurie Vervoort - Westerhuis Bruno  - 63,38
16. Jeanine Nekeman - Mister Danny de Vito - 63,24
17. Marieke Versluis - Hotshot Z2 - 62,82
18. Bo Oudhof - Bodethal's Kosima - 62,82
19. Demy Kurstjens - Anjershof Memorie - 62,69
20. Sanne Gilbers - Geronimo B - 62,59
21. Britt van der Panne - Ravel - 62,31
22. Mercedes Verwey E- xcellent Diablo - 61,94
23. Karlijn Geelkerken - Molenhorn's Rico  - 61,81
24. Luca de Rijck - Omira - 61,67
25. Anouck Nuyen - Turfhorst Past&present - 61,53
26. Dominique Marijnissen - Oldebert's High Speed - 61,3
27. Rachell Fokker - Orchard Boginov - 61,16
28. Shanna Lust - Stukhuster Orlando - 60,37
29. Patricia Bielefeld T- unja's Eduard  - 60,28
30. Naomi Veenhuizen - Don't Worry  - 60,23
31. Annelie Hoekstra - Pop Star - 59,86
32. Shanna Lust - Anjershof's Pablo  - 59,86
33. Marjan Hooge - Diamond's Are Forever - 59,58
34. Nanette Boeree - Beukenhof's Ricardo - 59,44
35. Marit Leegte - Molenhorn's Casanova - 58,01
36. Menthe Talsma - Chafira - 57,82
Lara Roozemond-   Kooihuster Keimpe - DNS
Lotte Meulendijks - Boticelli  - DNS
Melody Vroom - Da Vinci  - DNS
Lara Roozemond - No Angel - DNS
Related Links
Sanne Vos Wins Her Fourth 2011 Imperial Riding Cup Qualifier in Assen
Sanne Vos Aces 2011 Imperial Riding Cup Qualifier in Nieuw en St Joosland
Sanne Vos and Champ of Class Win Third 2011 Imperial Riding Cup Qualifier in Uden
New Talent Rises to the Top at 2011 Emmeloord Imperial Riding Cup Qualifier
Vos Wins First Qualifier of 2010-2011 Imperial Riding Cup in Weert