2011 Bundeschampionate Qualifiers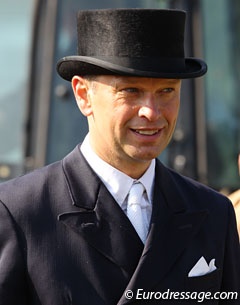 Standsfield and Bacchus von Worrenberg dominated the Bundeschampionate qualification classes at the 2011 Tasdorf Bundeschampionate qualifier on 28 - 29 May 2011. Hosted at Petra Wilm's stud farm Gestut Tasdorf, this qualifier was well occupied mostly by riders from the area.
The 5-year old Dressage Horse Test was won by Marco Buhring on the bay Hanoverian gelding Standsfield (by Satisfaction x Graf Grannus). The combination scored solid 8,5 marks for walk, trot, canter and suppleness and got 9.0 for general impression. With a total of 8.6 they bested the field. Falk Rosenbauer and the dark bay Oldenburg gelding Di Scancano (by Dimaggio x Rubinstein) were second with a total of 8.5. This pair earned a 9 for the canter. Johanna von Fircks and the Westfalian stallion Dream of Nymphenburg (by Dark Fire) were third with 8.1.  They excelled in trot and canter, for which they got 8.5. Kaarina Bockmann completed the top four wiht 8.0. Aboard the Hanoverian stallion Der Kleine Lord (by Danone I x Donnerschwee) she got 8.5 for trot and general impression and 8s for canter and suppleness.
In the 6-year old division a familiar face turned on the scene: the Swiss bred Hanoverian Bacchus von Worrenberg (by Belissimo M x Calypso II). The 2008 Bundeschampion and Verden auction price highlight (195,000 euro) returned in the show ring under Martin Christensen, who is the head rider of Stall Tannenhof near Hamburg. The pair scored an 8.10 total to win the class and got 8.5 for trot, canter and general impression. The walk and suppleness earned them a 7.5 mark. Marie-Theres Bahn and the liver chestnut Oldenburg stallion Dr. House (by Don Schufro x Krack C) were second with 7.7. They got 8s for trot, canter and general impression, 7.5 for walk and 7 for suppleness.
Results
5-year old Dressage Horses
1. Marco Buhring - Standsfield - 8.6
2. Falk Rosenbauer - Di Scancano - 8.5
3. Johanna von Fircks - Dream of Nymphenburg - 8.1
4. Kaarina Bockmann - Der Kleine Lord - 8.0
5. Kristina Bockmann - Hennessy - 7.8
6. Jessica Süss - Picardo - 7.7
6. Sonja Marie Ellerbrock - Del Capo - 7.7
8. Anika von Holdt - Wellina - 7.6
9. Anna Sophie Fiebelkorn - Hofliebe - 7.5
9. Jana Junglas - Winny - 7.5
9. Catrin Ritters - Black Jack - 7.5
12. Kornelia Kindermann - Hofperle - 7.4
13. Kristina Heuer - Rishu - 7.2
14. Wolfgang Schierloh - Ruby Tuesday - 7.1
15. Jeana Porthun - Aljeano - 7.0
16. Kornelia Kindermann - High Society - 6.9
16. Yvonne Reiser - Royal Classic - 6.9
18. Hans Dieter Mangelsdorf - For Asgard - 6.8
19. Anne Kathrin Wendell - Wall Street - 6.70
20. Friederike Wolf - Diva - 6.6
Jan Lens - Nachtmusik - RET/DNS
Eckhard Wahlers - Shadow's Dream - RET/DNS
6-year old Dressage Horses
1. Martin Christensen - Bacchus von Worrenberg - 8.1
2. Marie Theres - Dr House - 7.7
3. Cathrin Beckmann Messfeldt - Rock Ribery - 7.6
4. Ulrike Hatzl - Florentine - 7.5
4. Stefanie Hein - Petit Pompidou - 7.50
6. Melanie Tewes - Belsazar - 7.40
7. Pamela Vorwerk - Chapot - 7.3
8. Anja Cassel - Donington - 7.00
8. Wolfgang Schierloh - Leones - 7.00
8. Mareike Peckholz - Karl Lagerfeld - 7.00
11. Jan Lens - Chaplin - 6.90
11. Eckhard Wahlers - Dandy Warhol - 6.90
13. Raphael Loison - Lambourghini - 6.80
14. Jan Lens - Donella V - 6.70
15. Julia Marrancone - Chica Nova - 6.50
16. Christine von Oldershausen - Lady Gagga - 6.30
Levke Lubcker - Cumberland Jack - RET/DNS
Back to the 2011 Bundeschampionate