2011 World Championships for Young Dressage Horses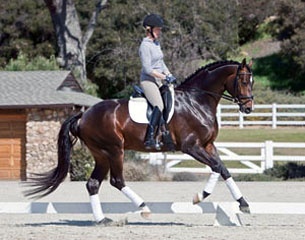 Sanceo and Sir Deauville were the winners of the young horse classes at the 2011 CDI Flintridge, where the second U.S. qualifier for the 2011 World Young Horse Championships was being held. Judges Linda Zang, Gary Rockwell and Natalie Lamping officiated at this western league young horse selection trial.
In the 5-year old division Sabine Schut-Kery rode Alice and Mike Heitman's Hanoverian stallion Sanceo (by San Remo x Ramiro's Son II) to an overall score of 82.280 and were the only pair at this competition to fulfil the U.S. qualification criterium for Verden. The Thousand Oaks, CA, based Schut-Kery won the preliminary test with 81.200 points and the finals with 83.000 points to total a score of 82.280.
"Alice and Mike send me to Germany to find a young dressage prospect," said Schut-Kery on her website about her winning youngster, which she found with the help of Johannes Westendarp. "When I first saw Sanceo, I fell in love with his beauty and presence immediately. I was impressed by his natural balance, quality gaits and steady rhythm that he already showed on the longe line. He was just under three years old and only 3 times under saddle."
Schut-Kery is trained by Christina Traurig and has not yet decided whether she will make the trip to Germany in August 2011 for the World Championships. The trip is not funded by the United States Equestrian Federation.
The 6-year old division was won by Sherry van 't Riet aboard Sir Deauville, an Oldenburg gelding by Sir Donnerhall I x De Niro x Cordial Medoc. The pair scored 73.800 points in the preliminary test and 69.000 in the Finals test to average on 70.920 points. After having made the careful decision to invest in a new young horse, Van 't Riet discovered Sir Deauville online via a video clip in the Vechta Elite Auction collection, but was unable to acquire the horse through the auction. Following a first, unsuccessful shopping trip to Europe in the spring of 2009, she found out on her return to the U.S. that Sir Deauville was for sale again in Germany and bought him.
Photo courtesy Schut-Kery
Results
5-year olds
Rider - Horse - Preliminary Test (40%) - Finals Test (60%) ---- Total
1. Sabine Schut-Kery - Sanceo - 81.200 - 83.000 --- 82.280
2. Willy Arts - Bakara - 73.800 - 76.000 --- 75.120
3. LJ Banks - Sonnenkonigin - 71.600 - 73.800 --- 72.920
4. Catherine O-Brian - Beladgio - 70.800 - 71.000 --- 70.920
6-year olds
Rider - Horse - Preliminary Test (40%) - Finals Test (60%) ---- Total
1. Sherry van 't Riet - Sir Deauville - 73.800 - 69.000 --- 70.920
2. Bekki Vrono - Soleil - 67.200 - 67.600 --- 67.440
Related Links
Wagner In the Picture at First 2011 U.S. Young Horse Selection Trial for Verden
Back to the 2011 WCYH index