2011 Pan American Games Qualifier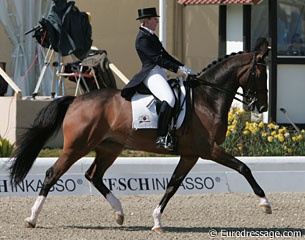 Some of the dressage world's best-known horse and rider teams will be wowing spectators at the 2011 CDI3*Y/J Capital Dressage Classic  June 3-5, 2011, at the Hunt Horse Complex in Raleigh, NC.  Among just a few of the world class riders who will be competing are Michael Barisone , Jim Koford, Susan Dutta, Lars Petersen, Karen Lipp, Shannon Dueck, Caroline Roffman, Tami Batts, Chris Hickey, Arlene Page and Julio Cesar Mendoza-Loor.
Scores will be updated and available on the web within minutes of each ride throughout the competition to give enthusiasts around the world a virtual front row seat.  Along with the 2011 Pan American Games qualifying classes, the show is an official qualifying competition for the 2011 Collecting Gaits Farm/USEF National Grand Prix Championship; Intermediaire I Championship; FEI North American Junior & Young Rider Championships; USEF "Brentina Cup" Championships; 2011 Markel/USEF Young Horse Dressage Program; and the 2011 USEF National Developing Horse Dressage Championship (sponsored by the Dutta Corp & PSI).
The 2011 CDI3*Y/J Capital Dressage Classic, hosted by the NC Dressage and Combined Training Association, will be managed for the first time by Regina Antonioli of California. As the chairman of the USDF Competition committee, Antonioli believes Raleigh's Capital Dressage Classic is an essential part of the high-performance competition calendar.
"It is very important to have international level competitions in many geographic areas of the country, allowing competitors to minimize the added stress and costs associated with repeated long distance travel," she said. "Almost more importantly, it affords more people, whether confirmed dressage fans or those who might become fans, the opportunity to experience our sport at this level."
A crowd pleasing highlight of the three-day competition will be held Saturday, June 4, at 7 p.m. featuring an evening of competitive musical freestyles, a performance by the renowned 82nd Airborne Division's All-American Chorus from Ft. Bragg, and an exhibition of jousting and games by the medieval combat group Lance of St. Anthony. In keeping with the military themed evening, and to honor NC's men and women in uniform, a portion of ticket, show program and commemorative poster sales will be donated to the Airborne Scholarship Association.
Photo © Astrid Appels
Related Links
Riders' Quests to Earn Spots on Pan Am Teams Continue at 2011 CDI Woodside
Canadian 2011 Pan American Games Trials Announced
Bernadette Pujals in the Lead at First Mexican 2011 Pan Am Games Qualifier