2011 World Championships for Young Dressage Horses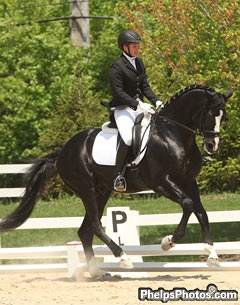 Twenty-three year old Emily Wagner rode herself in the picture at the first official American selection trial for the World Young Horse Championships which will be held in Verden, Germany, 4 - 7 August 2011. Hosted at Dressage at Lamplight on 20 - 22 May 2011, the first U.S. qualifier featured five youngsters in the 5 and 6-year old category but surprisingly only two actually made it to the finishline. As the U.S. Young Horse Program offers no funds at all for qualfiied American riders to compete in Germany at the most prestigious young horse show of the year, the interest for riding the trials with Verden as goal is less than lukewarm.
Even though the young Wagner is still paying for the 28,000$ costing trip she made to Verden in 2010, Emily has qualified again for the World Championships by scoring 85.800% in the 6-year old Finals Test aboard her American bred Wakeup (by Wagnis x Macho). In the first round a break into canter in the extended trot reduced her score fo 77.400% in the preliminary test, but Wagner shifted gears in the Finals test and rode an almost flawless, forward ride with only one flying change in two phases.
Twice placing second were Angela Hecker-Jackson on the American bred Dutch warmblood Allure S (by Rousseau x Farrington x Hierarch). Bred by Sonnenberg farm, Allure S was purchased as a foal by Dr. Kerrin Dunn and initially trained by Elizabeth Austin. Hecker-Jackson took over the ride on Allure more than half a year ago and is now campaigning her in the 6-year old division.
With only three official selection trials for the WCYH in Verden, it was surprising that not more horses were entered for the central American trial at Lamplight in Wayne, ILL. Two five year olds scratched and, unfortunately, Matthew Cunningham was unable to ride Debbie Shambam's 5-year old Oldenburg Deucalion (by Donates) to success, as the pair was eliminated in the preliminary test and retired in the Finals test.
The Western selection trial will take place at Flintridge in California next week and the Eastern qualifier is at the VADA/NOVA Summer Dressage Show at Morven Park in Leesburg, VA, 3 - 5 June 2011.
Photo © Phelpsphotos.com - More coverage of the Central Young Horse Qualifier at Dressagedaily.com
Results
5-year olds Preliminary Test
1. Cunningham, Matthew - Deucalion - Eliminated
Barteau, Yvonne - Fontana - DNS
5-year olds Finals Test
1. Cunningham, Matthew  - Deucalion - RET
Johnson, Amanda - Duval - DNS
Barteau, Yvonne - Fontana - DNS
6-year olds Preliminary Test
1. Wagner, Emily - Wakeup - 77.400%
2. Hecker-Jackson, Angela - Allure S - 70.000%
6-year olds Finals Test
1. Wagner, Emily - Wakeup - 85.800%
2. Hecker-Jackson, Angela - Allure S - 72.600%
Related Links
Eurodressage Coverage of the 2011 World Young Horse Championships
Emily Wagner and WakeUp Excited to Be So Close in Verden