2011 World Championships for Young Dressage Horses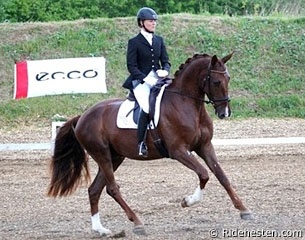 The Danish selection trials for the 2011 World Young Horse Championships have begun with a first qualifier held at the Aabenraa Riding Club on 15 May 2011. Five horses in total scored high enough to move onto the Danish Young Horse Finals held in Broholm 26 - 26 June 2011, where the definite team for Verden will be picked.
The next two regional Danish WCYH qualifiers are held at the Midtsjællands Riding Club on 22 May 2011 and at the Middelfart Riding Centre on 12 June 2011.
The horses which qualified in Aabenraa are:
5-year olds
Serupgards Breezer (by Michellino x Traumdeuter)
Owner and Rider: Laila Bilstrup
Sandbaeks Don Aron (by Don Schufro x Royal Diamond)
Owner and Rider: Pernille Ørum
Skovborgs Romadinov (by Romanov x Mago xx)
Owner: Esben Klinkeby - Rider: Rikke Klinkeby
Samba King (by Sandro King x Lancet)
Owner: Helle Pia Koch and Werner Jensen - Rider: Helle Pia Koch
6-year olds:
Sandro Man (by Sandro Hit x  De Niro)
Owner: BFC Horses - Rider: Martin Hussmann
Photo © Ridehesten.com
Back to the 2011 World Young Horse Championship index