2011 Bundeschampionate Qualifiers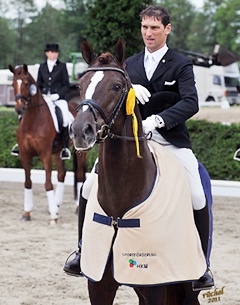 Kira Wulferding rode the 6-year old Oldenburg licensed stallion Sergio Rossi (by Sir Donnerhall I x Rosenkavalier) to gold at the 2011 Haftenkamp Bundeschampionate Qualifier held on Saturday 14 May 2011. Bred and owned by Gudula Vorwerk-Happ, Sergio Rossi scored a strong 8.4 score to take the lead in a large field of competitors.
"I had a super show weekend in Haftenkamp," Wulferding commented briefly on her show success.
Six horses in total out of 23 scored the required 8.0 or higher mark to qualify for the Bundeschampionate Finals held in Warendorf the first week of September 2011.
Christoph Koschel and the chestnut gelding Don Bettino (by Don Primero x Painters Row xx) were second with 8.3, while Markus Gribbe landed a third place aboard Clemens von Merveldt's Oldenburg licensed stallion Floriscount (by Florencio x Donnerhall) with 8.2. He tied with Anne Horstmann on the Westfalian gelding Sir Peter (by Sir Donnerhall I x Weltgeist).
Two horses got the minimum qualification score of 8.0 and they were Hermann Bunger's black gelding Friedrich der Grosse (by Florencio x Freiherr) and Sabine Egber's Leichtfeuer (by Laurentio x Dimension).
Photo © Rüchel
Results
6-year old Dressage Horses
1 Sergio Rossi - Wulferding,Kira - 8.4
2. Don Bettino - Koschel,Christoph - 8.3
3. Floriscount - Gribbe,Markus - 8.2
3. Sir Peter - Horstmann,Anne - 8.2
5. Friedrich der Große - Burger,Hermann - 8.0
5. Leuchtfeuer - Egbers,Sabine - 8.0
7. QC Ruling Cortes - Pundsack,Marita - 7.8
7. Baroque - Westendarp,Johannes - 7.8
9. Diamond Child RB - Nowag,Carolin - 7.7
9. Walt Disney C - Slu?ter,Annika - 7.7
11. Soleado - Gerdes,Hermann - 7.6
12. Ehrgeiz - Ulmker,Andrea - 7.5
12. Dancing Boy - Wilbers,Marion - 7.5
14. Priegnitz - Hu?ttner,Kilian - 7.4
14. Sinfonia Monasteria - Mormann,Hiltrud - 7.4
16. Donatella - Burger,Hermann - 7.3
16. Leonardo - Gießelmann,Jan-Dirk - 7.3
16. Rocky - Timpe,Andrea - 7.3
19. Diamond Rex - Funke,Julia - 7.1
19. Sonnenreiter OLD - Mc Cormack,John - 7.1
19. Fergonn - Taylor,David - 7.1
22. Jazzqueen - Burger,Katrin - 7.0
23. Sirlano - Seymour,Tanya - 6.8
Back to the 2011 Bundeschampionate Index