Dutch Dressage News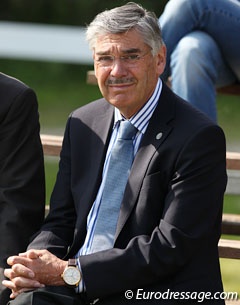 Following the official appointment of the ground jury in November 2010 the organizers of the 2011 European Dressage Championships recently published the names of the judges that will assess the rides at the 2011 Europeans held in Rotterdam, The Netherlands, on 17 - 21 August 2011.
The judging panel, consisting of 7 judges seated at E, H, C, M, B, K and F, will include Stephen Clarke (GBR), Maribel Alonso (MEX), Evi Eisenhardt (GER), Wojtek Markowski (POL), Jean Michel Roudier (FRA) en Mary Seefried (Australië). FEI Dressage Judge General Ghislain Fouarge (NED) will be president of the ground jury.
Gary Rockwell (USA) is appointed as reserve judge and will be present at the Championships. The judging supervisory panel will consist of its fixed members Eric Lette (SWE), Uwe Mechlem (GER) and David Hunt (GBR).
The appointments for the 2011 European Championshipwere done it two steps: Approximately 15 months before the event, a long list consisting of a maximum of 12 judges, was appointed (in August 2010). In November 2010 a random draw among the judges on the long list was done, to appoint the actual Ground Jury for the event.
Photo © Astrid Appels
Related Links
Eurodressage Coverage of the 2011 European Dressage Championships
Judging Supervisory Panel at Work at the 2011 World Cup Finals
World Cup Roundup: Who said You Can't Teach an Old Dog New Tricks!
Fouarge Elected First FEI Dressage Judge General
Stephen Clarke Appointed President of Ground Jury for 2012 Olympic Games