IDOC News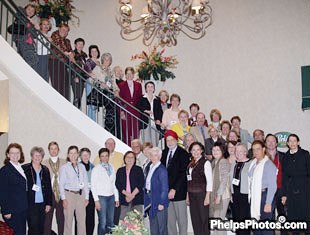 This winter, the IDOC and FEI offered a seminar on Feb 11-13, at the Wellington Classic Spring Challenge. The International Dressage Officials Club (IDOC) has been in existence for twenty years, and the recent evolutions within the FEI have allowed for the club to become an "FEI Associate Member,"
representing the judges as a stakeholder group. 
It is a non-profit organization dedicated to furthering the education of judges and candidate judges, organization of meetings and seminars for judges and the dissemination of information with regard to questions of judgment and dressage tests among many other goals.  Membership is available to FEI and Senior dressage judges.
It was organized by the North American IDOC chapter headed up by Canadian Cara Whitham in conjunction with Maribel Alonso of Mexico, head of the Lain American chapter.  Forty-five judges from the across the western hemisphere, including Peru, Colombia, Mexico, the United States and Canada were in attendance.
Much of the attraction was course director Mariette Withages, one of the premier FEI 5* judges in the world and chairman of the IDOC well known for her dedication to education in the sport. She also will conduct an FEI Pilot program for 2* judges in Korea. Several other of the very best judges in world attended, providing a strong sounding board for the newer judges. Many of the officiating judges also dropped in for observation, as one can never stop learning and developing their eye for this sport.
by Debby Savage
Photo © Mary Phelps/Phelpsphotos.com
Read the complete article on Dressagedaily.com