2011 CDI Hagen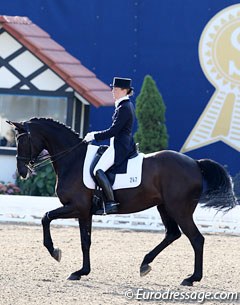 For 24-year old Hedda Droege the Hagen show grounds were only a hop and a skip away from Hof Beckerode, where she trains with the Koschel family, but the short 200 meter hack to the main ring was worth it as Droege had her 13-year old Westfalian mare Fifth Avenue (by Florestan x Rubinstein) in top shape. The pair won the national Under 25 Short Grand Prix class with 75.220% and finished second in the warm up test with 72.550%.
The business management student and her Westfalian Elite Auction Horse Fifth Avenue, nicknamed Fifi, showed excellent piaffe passage work and a fantastic contact with the bit. The rideability and obedience of the horse was exemplary and Droege showcased amazing riding as she flawlessly strung each movement together.
"We now have to make a detailed show plan for the next weeks," an ecstatic Droege commented after her victory.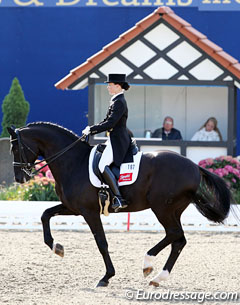 Droege felt the breeze of Kristina Sprehe down her neck as Sprehe made her Under 25 debut aboard her super star stallion Desperados (by De Niro x Wolkenstein II). The black Hanoverian stallion was the shooting star in Germany last year under Falk Rosenbauer who trained him all the way up to Grand Prix. Owner Sprehe then decided to hand the stallion to his daughter, former young rider Kristina, who is now working at infiltrating in the senior circuit.
Sprehe and Desperados won the Under 25 warm up test with an impressive score of 75.550%. The stallion is such an amazing athlete: outstanding piaffe and passage, brilliant pirouettes, big flying changes, three superb basic gaits. He is the complete package but in his new partnership with Sprehe at all needs to flow more. The whole test had a bit of a staccato effect instead of a seamless, effortless ride. In the short Grand Prix the pair ranked second with 73.707% with huge room for improvement.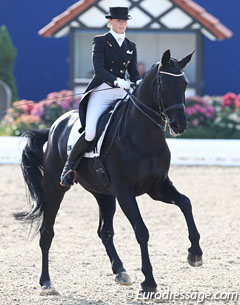 Dorothee Schneider's student Stella Charlott Roth moved from the young riders' division to Under 25 Grand Prix level, while combining her riding career with studying economy in Frankfurt. Though multi-tasking, Roth obviously has plenty attention for her ride Diva Royal (by Don Frederico x Warkant) as the chunky black mare looked well prepared and thoroughly schooled for the highest level. Solid piaffe and passage work and strong canter work resulted in two third places with 70.500% and 72.244%.
Text and Photos © Astrid Appels - No Reproduction Allowed!
Back to the 2011 CDI Hagen Index