KWPN Breeding News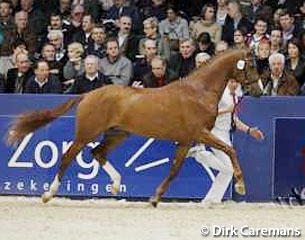 The 3-year old KWPN stallion Doi Doi Doi (by Vivaldi x Gribaldi x Cadmus xx), who was accepted at the 2011 KWPN Stallion Licensing to participate in the mandatory Stallion Performance Test, has been sent home because the stallion proved to have a class III X-ray after a random sample test.
According to the regulations relating to stallion selection, random sample X-rays can be taken of the stallion. These random tests were instated in 2007 when the mandatory vet check of the aspiring licensed stallions became decentralised. X-rays taken of Doi Doi Doi during this random test led to a new vet check of the stallion. The nex X-rays revealed that there was a clear deficienct in the quality of the navicular bone.
Based on this results, the owners (R. Franssen/Joop van Uytert) were informed and an independant committee reviewed the X-rays again. They also concluded that the navicular bone of Doi Doi Doi was class III. This committee passed on their assessment to the KWPN Stallion Licensing Committee.
A stallion can only be accepted by the KWPN society when he is fully healthy. Last year during the vet check of Doi Doi Doi his X-rays were acceptable and the stallion received the PROK certificate. Because his navicular bone is now a class III his PROK certifcate has been proclaimed invalid. The stallion was also sent home from the Stallion Performance Test.
"A change in the X-ray status of a navicular bone is possible with young stallions, but at this age and in such a short time is very rare," said KWPN veterinary advisor Krijn van Muiswinkel.
This is the first time that a different result in X-rays has popped up through the random test system.
Doi Doi Doi is bred and owned by R. Franssen and Joop and Anne van Uytert (members of I.P.S Horse Group). They named the colt after the first words spoken by their daughter Gwen. As a foal he was champion of the Gelderland KWPN Breed Show.
Photo © Dirk Caremans
Related Links
Van der Meer Test Rider at 2011 KWPN Spring Stallion Performance Testing
Diebrecht, Champion of the 2011 KWPN Stallion Licensing