2011 CDN Zandhoven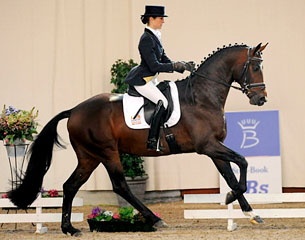 Chopin, Bon Bravour and Don Massino were the winning youngsters at the Belgian national dressage competition in Zandhoven on Saturday 7 May 2011. The show was the second trial at which Belgian combinations were able to gain qualification scores for the selection for the 2011 World Championships for Young Dressage Horses in Verden, Germany.
The 4-year old division was won by Dominique Mohimont on her Dutch warmblood Chopin (by Jazz x Chopin) with a 76.526%. Nick van Laer and the Belgian warmblood Hyrano (by Furst Junior x Weltgeist) landed a second place with 73,263 and they were closely followed by Mario van Orshaegen on the Hanoverian stallion Lorenzo Lamas (by Laurent x Wallhall) with 72.395.
The 5 and 6-year old divisions were the classes counting for WCYH selection. The 5-year old Dutch bred stallion Bon Bravour (by Painted Black x Chronos) scored 79.050 points under his steady rider Tom Franckx-Goen and claimed the trophy. Jeroen Hannes and the Oldenburg licensed Galliani Biolley (by Sir Donnerhall x Lanciano) followed in a distance with 74.950, while Stefan van Ingelgem and Debussy (by Dimaggio x Western Star) ranked third with 73.038.
Larissa Pauluis and the Oldenburg bred Don Massimo (by Don Larino x Santander H) aced the 6-year old preliminary test with 72,190 points. Simon Missiaen posted a score of 72,048 points to finish second on the stallion Rousseau's Topaz (by Rousseau), a horse he has been riding for little over a month. Professional Stefan van Ingelgem pushed for third place on Ariane's Razotti (by Romanov x Dream of Glory) with 69,833.
"The stallion gave me a super feeling and from now on we can only grow," said an ecstatic Simon Missiaen about his second place. "Who knows we can dream of a selection for the World Championships in Verden," he added.
Results
4-year olds
1. Mohimont Dominique - Chopin - 76,526
2. Van Laer Nick - Hyrano  - 73,263
3. Van Orshaegen Mario - Lorenzo Lamas  - 72,395
4. Hollanders Stefan - Sir Classic - 72,158
5. Cool Isabel - Constand - 71,368
6. Horsting Toby - Hydane van de Kerkhoeve - 70,895
7. Van Laer Nick - Sir Donovan - 70,855
8. Van Laer Nick - Fleury's Joyce  - 69,789
9. Timmerman Mercedes - QC Sir Henry - 68,947
10. Dewaegenaere Ona - Calucci Utopia - 68,921
11. Daeleman Ingrid - Lorenzo vd Wateringhoeve - 68,737
12. Missiaen Simon -  Kirmen de Mars - 68,526
13. Dries Mieke - Bonavonturo vd Kempenhoeve -  67,026
14. Hens Dorien - Ronaldo - 66,895
15. Goen-franckx Erik - Celene - 66,816
16. Ulrici Caroline - Lord Wallonia - 65,724
17. Van Bambost Steve - Concerto -  65,368
18. Reyns Erika - President s Coryphee LM - 64,921
19. Hannes Jeroen - Chello  - 64,395
20. Van Hulsen Yehudi - J2L Dark Chocolate - 63,553
21. Van Gerwen Sofie - Hitchcock -  63,487
22. Blanckaert Lynn - Brentina - 60,000
23. Dupont Melanie - Hippy des Bruyeres - 55,421
5-year olds
1. Franckx-goen Tom- Bon Bravour - 79,050
2. Hannes Jeroen - Galliani Biolley - 74,950
3. Van Ingelgem Stefan - Debussy - 73,038
4. Horsting Toby - Bizzkit Lusan - 70,888
5. Vettenburg Michelle - Dartagnan - 70,738
6. De Vlieger Andre - Banner Man S - 70,463
7. D Hoore Brecht - Beau Punto C - 69,375
8. Moordtgat Anke - Believe RT - 69,225
9. Heylen Tom - Gucci 'H'  -  68,400
10. Daeleman Ingrid - Gorky G - 66,700
11. Van Den Berge Deborah - Bitou -  66,588 
12. Michiels Els - Gloria VD Wateringhoeve - 66,550
13. De Reus Benjamin - Leoville las Cases - 66,350
14. De Kort Marjolein - Briljant's Wonderboy - 65,975
15. De Wae Frederick - Simply Me  - 65,188
16. Helsmoortel Charlotte - Bvlgari - 64,650
17. De Wae Frederick - Bravo - 62,613
18. Van Der Borght Sylvie - QC Rubert Redford - 62,525
19. De Smet Isabel - Heinricke - 60,325
20. Wouters Deborah  - Gayento V.h. Bloemenhof - 59,113
6-year olds
1. Pauluis Larissa - Don Massimo - 72,190
2. Missiaen Simon - Rousseau's Topas - 72,048
3. Van Ingelgem Stefan - Ariane's Razotti - 69,833
4. Prevost Amandine - Lacoste - 69,738
5. Vettenburg Michelle - Avanti - 69,143
6. Van Laer Nick -Don Matcho Vd Roshoeve  - 68,381
7. Dewaegenaere Ona - Floris Van De Helle - 68,333
8. Gielen-burger Verena - Maxifun - 67,690
9. Engelen David - Royal Rubinstein - 66,095
10. Vangoidsenhoven Vicky - Sir Gioveto - 65,940
11. Dries Mieke - Fantast Van De Kempenhoeve - 64,988
12. Verreet Katrien - Fabian van de Boslandhoeve - 64,821
13. De Roeck Charlotte - Reine D'or  - 63,798
14. Raymaekers Julie  - Saint-Tropez - 62,905
15. Carmeliet Christophe - Furst Donia  - 59,714
16. Dupont Melanie - Equifirst Paulus - 58,357
Related Links
Belgian Young Horse Show Circuit Kicks Off at CDN Zandhoven
Belgian Qualifiers for the 2011 World Young Horse Championships in Verden