2011 Bundeschampionate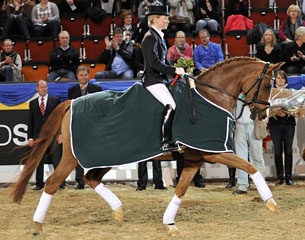 Flynn, Der Felix and Schickeria were the winners of the Bundeschampionate qualification classes at the national dressage and show jumping competition at Massener Heide on 20 - 21 April 2011. The Westfalian regional event was the first BuCha qualifier of the season and could pride itself in having fifty combinations in the highly competitive classes.
The 5-year old dressage horse division was split into two groups based on the riders' last name. The first group was won by Marcus Hermes on Flynn TCH. The Hanoverian stallion by Falsterbo x Walt Disney I scored a winning 8.4 and was only one horse out of two in his class to obtain the 8.0 or higher qualification score. American Jennifer Hoffmann, who recently relocated back to Germany, finished second with the licensed stallion Florentinus (by Florestan x Londonderry x Weltmeyer).
In the second group of 5-year old dressage horses Oliver Oelrich topped the leaderboard with 8.0 for his ride on Der Felix, a Westfalian gelding by Damond Hill x Diamo. He referred Anja Wilimzig on Sunday (by Sandro Hit x Donnerhall) to a second place and Nadine Plaster on Pferd 24's Snap Shot (by Sir Donnerhall x Alabaster) to a third position.
A staggering eight horses scored 8.0 or higher in the 6-year old dressage division, which was won by Helen Langehanenberger aboard Sissy Max-Theurer's Westfalian mare Schickeria (by Sir Donnerhall x Weltmeyer). The lovely pair achieved a mark of 8.6 to earn the trophy and blue ribbon. Vechta auction rider Kira Wulferding placed second with Sergio Rossi (by Sir Donnerhall x Rosenkavalier) on 8.5. Sabine Egbers and Leuchtfeuer (by Laurentio x Dimension) slotted in third with 8.4 and were closely followed by Jenny Kitzing on Rex Peter (by Rosario x Classiker) with 8.3. Christoph Kleimeyer completed the top five wit an 8.2 aboard Diamonds Head (by Don Schufro x Dalheim). Two horses tied for sixth place with 8.0. They were Johanna von Firck's show jumping bred stallion Chicco von Nymphenburg  (by Carry Gold x Cordial Medoc) and Nadine Plaster's Donna Charian (by Don Schufro x Rotspon).
Photo © Tanja Becker
Results
5-year old Dressage Horses - Group 1
1. Marcus Hermes - Flynn TCH - 8.4
2. Jennifer Hoffmann - Florentinus - 8.0
3. Tessa Frank - Simplu Nymphenburg - 7.9
4. Stefanie Kerner  - Darnell - 7.8
5. Emma Kanerva - Save the Last Dance - 7.6
6. Sabine Egbers  - Seneca - 7.5
7. Johanna von Fircks - Dream of Nymphenburg - 7.4
8. Jenny Kitzing  - Furst peter - 7.4
9. Maik Knapmo?ller - Finito - 7.3
10. Arnd Erben - Love Light - 7.3
11. Stefanie Kerner  - Diamond's Diva - 7.2
12. Sabrina Finke  - Damy's Girl - 7.1
12. Alexa Engel  - Louidor - 7.1
14. Rocco Di Pierro - Rio Grande - 6.9
15. Viktoria Eulner - Donnerstag - 6.7
16. Anna Vanessa Fieseler  - Real Cute - 6.5
17. Olaf Harke - Dunja F - 6.10
18. Sarah Ku?hnen - Ribery Gold - 5.7
5-year old Dressage Horses - Group 2
1. Oliver Oelrich - Der Felix - 8.0
2. Anja Wilimzig - Sunday - 7.8
3. Nadine Plaster - Snap Shot - 7.7
4. Ann-Christin Wienkamp - Rubin Sylvestre - 7.2
5. Peter John Weston - Sir George - 7.0
6. Mareike Mimberg - Ded Hardy - 6.9
6. Christina Pantzar - Fabriana - 6.9
6. Britta Lichtenberg - Furst Piccolo's Junior - 6.9
6. Helen Langehanenberg - Reliance - 6.9
6. Jill Jessica Mieleszko - Sammy Deluxe - 6.9
11. Peter John Weston - Dundee - 6.8
11. Jessica Su?ss  - Picardo - 6.8
11. Maurizio Taverniti - Rino Mo - 6.8
14. Petra Stroetmann  - Ravel - 6.7
15. Stefanie Serowy  - Dona Pepita - 6.6
16. Uta Wu?sthof  - Laavanyo - 6.4
17. Tina Olerink  - Diandra - 5.8
18. Johanna Lo?er - Remus W - 5.8
6-year old Dressage Horses
1. Helen Langehanenberg - Schickeria - 8.6
2. Kira Wulferding - Sergio Rossi - 8.5
3. Sabine Egbers - Leuchtfeuer - 8.4
4. Jenny Kitzing - Rex Peter - 8.3
5. Christoph Kleimeyer - Diamonds Head - 8.2
6. Johanna von Fircks - Chicco von Nymphenburg - 8.0
6. Nadine Plaster - Donna Charian - 8.0
8. Markus Gribbe - Floriscount - 7.6
8. Kira Wulferding - Siena - 7.6
10. Norbert Lochthowe - Dos Santos - 7.5
10. Helen Langehanenberg - Rangano - 7.5
12. Anne Horstmann - Sir Peter - 7.4
13. Emma Kanerva - Aberdeeen - 7.2
14. Marion Wilbers - Dancing Boy - 7.1
15. Andrea Ulmker - Ehrgeiz - 7.0
16. Petra Stroetmann - Dance in Time - 6.9
16. Andrea Timpe - Rocky - 6.9
18. Uta Wu?sthof - Lafayette le Grand - 6.6
19. Birgit Zenk - Mister Bean - 5.9
Back to the 2011 Bundeschampionate Index