German Dressage News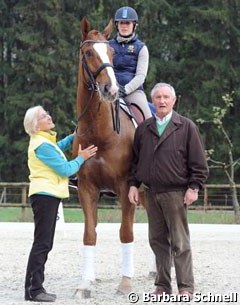 More than 130 spectators attended the Linda Tellington-Jones clinic at Klaus Balkenhol's stable in Rosendahl, Germany, on Saturday 16 April 2011. The 73-year old Canadian equine behavourial therapist worked with three strikingly different horses, yet all noise-sensitive, spooky and unconfident.
The focus of the clinic was clearly on relaxation and Tellington-Jones applied elements of physiotherapy, the Feldenkrais method, western riding and her own "Tellington Trust Touch" to work with the horses and bring them to a new level of awareness and calmness.
Linda first worked with Anabel Balkenhol's WEG team bronze medal winning Grand Prix horse Dablino (by De Niro) who is known for his hypersensitivity and spookiness. The visuable, latent mistrust towards the touches and palpations on his body were not only proof of Dablino's unsettled state of mind, but also of the long way that has already been travelled with him as he started out as an unconfident, nervous youngster.
"Linda is a real horsewoman, who understands the language of horses and who can put a spell on them," Balkenhol told Eurodressage. "It is really impressive how she succeeds in getting Dablino to focus on her and work with her, despite of all his fears and insecurities."
Tellington-Jones impressed with her focused and patient approach to horses throughout the day and did not shy from taking a seat in the saddle herself on an extremely hyper-responsive black horse, which she was able to control with only a neck collar on. The horse soon relied on the rider to show him the way without constantly inspecting his surroundings.
The young grey gelding Heartbreaker (by His Highness x Espri) was the third "patient" at the clinic. This horse is noise-sensitive and also has the typical trailer problem, refusing to be loaded. "Heartbreaker is very talented horse, but can spook terribly when he hears a noise behind him. He'll take off and his rider Mandy Zimmer can barely hold on to him," Balkenhol explained.
Linda worked patiently with this horse praising him for every step forward he took. At the end, the horse walked by himself on clammering wooden floorboards (to represent the loading ramp) and walked under two arches, which were held by assistents to represent the roof of the trailer.
"The work with Linda was very useful for Heartbreaker," said Klaus. "You could see at the end that even the applause couldn't impress him anymore. Linda's trailer exercises showed how much patience one needs to get the horse on one's side. Patience, only patience, brings you to your goal. And that also counts for Dablino and his long road to and at the top."
Balkenhol believes that Tellington-Jones' techniques are a valuable addition to the overall way of training horses. "We can't and don't want to replace the classical training methods with these techniques," said host Klaus Balkenhol. "However, it was impressive to see here how training horses with Linda's methods would be complementary and enriching."
Balkenhol has worked with Tellington-Jones for over twenty years and called upon her help to desensitize, for instance, Nadine Capellmann's Gracioso and Farbenfroh to give those horses more confidence in the show ring. She has also worked with other world renowned dressage riders such as Kyra Kyrklund (Matador) and Dr. Reiner Klimke.
Photos © Barbara Schnell
Related Link
Linda Tellington-Jones working with Kyra Kyrklund's Matador