FEI Dressage News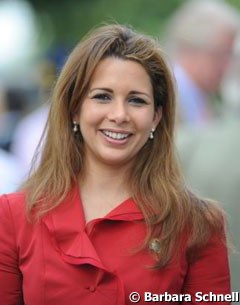 On 14 March 2011 FEI President Princess Haya sent a letter to all national federation in which she expressed her concerns relating to the restructuring of the FEI.
Because the modernization of the FEI has become such a critical issue on the agenda, Haya suggests a postponement of the restructuring vote at the May Extraordinary General Assembly (EGA).
"Everyone wants to endorse constitutional renewal of the FEI, and ultimately to see its Bureau restructured into a smaller, but representative and equally effective guardian of our sport and our affairs," Haya wrote in her letter. "I have sensed that while you all genuinely want to see the restructuring happen, and believe that ultimately it must, you have very serious reservations that focus around topics such as representation, and the correct balance of sport and the current structure's ability to place our sport at the heart of its actions."
As many federations insist on getting the opportunity to share different models and discuss them, rather than "rely on building on old efforts" the Executive Board and its president believe that the vote on Restructuring should be postponed.
Haya, however, added that "the only aspect of the restructuring that I am uncomfortable with postponing is that of Athlete representation on the governing board. Currently we also do not have Athlete representation on the Bureau and this does not fulfill IOC requirements."
The FEI proposes to hold the Extraordinary General Assembly on 6 May to pass the statutes that deal with Development. "This will allow us to move on all of the promises made for Development, that encompass the FEI Solidarity itself, National Federation Services, Transport and Quarantine and others, all hugely important."
The EGA will be used as a forum to discuss the restructuring and how best to achieve it. Haya would also like the Executive board to nominate an Athlete representative to sit on the Bureau and Executive Board, to be ratified by the EGA in order to give him or her voting rights.
The EGA will also serve as the official opening of the new FEI Headquarters, which have been named the King Husein I Building after Princess Haya's father Hussein bin Talal, King of Jordan.
Read Haya's complete letter here
Photo © Astrid Appels
Related Links
Maharaj, Chair of Constitutional Task Force, Addresses National Federations
Ulf Helgstrand on the Modernization of the FEI