2011 World Championships for Young Dressage Horses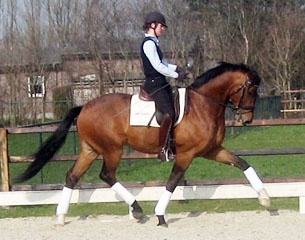 The group of horses in the running to become official Dutch representatives at the 2011 World Young Horse Championships has enlarged after the second observation trial held on Tuesday 19 April 2011 at the KNHS headquarters in Ermelo, The Netherlands. Horses that were absent on the first trial - Borencio, Bretton Woods, Avatar, and Astrix -- due to illness of their rider or injury have now been reviewed by the committee and accepted for the next round.
All combinations which have initially qualified for the second trial were also accepted to come back for the third by the selection committee (Wim Ernes, Johan Hamminga and Gert van den Hoorn). This next session will take place on Tuesday 26 April 2011 in Ermelo.
Several horses were absent at the second trial but they should return again next week. They were Andretti (by Special D), Amazing Star (by Flemmingh), Aaron (by Florencio), Aston Martin Nl (by Uphill) and Anne Beth (by Uphill).
The Dutch WCYH long list includes:
5-year olds:
Beaumonde (by United) – Emma van de Hooven
Be Special (by Special D) – Fieke Houwen
Buenos Aires (by Scandic) – Vivian de la Roy
So you Know (by Scandic) – Jennifer Sekreve
Belle Lady Texel (by Krack C) – Lotje Schoots
Boston  (by Johnson) – Hans Peter Minderhoud
Brooklyn (by United) – Cindy van Vught
Beau Deux (by Ravel) – Geert Jan Raateland
Believe  (by Rubiquil) – Thamar Zweistra
Bolero D (by Van The Man) – Vienna Romp
Bojengel (by Uptown) – Jenny Koks
Borencio (by Florencio) – Emmelie Scholtens
Bretton Woods (by Johnson) – Emmelie Scholtens
6-year olds:
Aaron (by Florencio) – Jana Freund
Allright (by Jazz) – Laurens van Lieren
Aston Martin NL (by Uphill) – Christa Laarakkers
Amazing Star (by Flemmingh) – Theo Hanzon
Angush (by Special D) – Diederik van Silfhout
Alonzo (by Contango) – Jonna Schelstraete
Anne Beth (by Uphill) – Vai Bruntink
Avanti (by United) – Laurens van Lieren
Auctor (by Rubiquil) – Thamar Zweistra
Anoraline (by Samba Hit) – Engie Kwakkel
Andretti (by Special D) – Theo Hanzon
Astrid Sollenburg (by OO Seven) – Floor Dröge
Athene (by United) – Gerdine Maree
Avatar (by Negro) – Petri Bax
Astrix (by Obelisk) – Emmelie Scholtens
Related Links
Twenty-Five Youngsters Selected to Participate in 2011 Dutch WCYH Selection Process
Back to the 2011 WCYH index