KWPN Breeding News
If your goal is to breed, own or ride the next Ravel, Totilas, Judgement ISF, Idocus, or Popeye K, the KWPN-NA Annual Meeting added to your inspiration. With insights from Olympic medalist Steffen Peters and renowned breeder and KWPN judge Cor Loeffen
, along with networking with some of the world's biggest and best KWPN horse breeders, the event was the largest in recent years. 200 enthusiastic equestrians gathered in Visalia, California to discuss and debate the best way to produce and manage superstar equines.
Longtime breeder, Scot Tolman of Spofford, NH, attends the KWPN-NA Annual Meeting in search of adding even more knowledge to his 20-plus years of breeding Dutch horses. "The breeders lead the KWPN; it's an evolving studbook. Ravel and Totilas are shaping the breeding of dressage horses," he says. "As breeders, we must be aware of what is happening in sport and [understand] what [qualities] stallions are producing."
Conversations throughout the meeting always turned to particular stallion and mare lines and the traits they are known for producing. Scot referenced Jazz. Although the stallion has produced 40 Grand Prix horses, Jazz is often recognized only for producing hot temperaments. Scot continues, "Sometimes people hyper-focus on one trait. You can't knock down horses because of one trait. You have to grasp the big picture."
Education
To help breeders and trainers see the big picture, Cor Loeffen shared his knowledge of the KWPN's linear scoring method. This method is unique within the sport horse breeding industry. This scoring assesses factors like the length and angle of bones and joints, which is then backed up with movement and jumping ability. For example, it is common to look at the shoulder angle to predict movement, but Cor explains that the length of the shoulder is more important than the position of the shoulder. And movement is more important than conformation when assessing potential as a riding horse.
Cor also encourages breeders to think in decades rather than years. "If you want to change a horse, you need generations." And while intellectual knowledge is important, it is the ability to assess actual horses in motion that really makes a horseman.
For Darla d'Agay, a retired Social Worker from Grenada, CA, the camaraderie with other breeders and access to experts such as Steffen and Cor was a draw.
Darla began breeding horses after she saw many friends and fellow riders purchasing athletic horses they couldn't ride. She set out to learn as much about bloodlines as possible, with the goal of producing beautiful, athletic horses with friendly dispositions. As a result she has horses by Sir Sinclair, Wynton and Farrington, among others. Her colt Banderas was a KWPN-NA Top Five Foal in 2006.
"The KWPN system for evaluating horses has always appealed to me as a trained Social Worker for its emphasis on separating objective and subjective observations and for presenting short-term, as well as long-term data," Darla explains. "The meeting is valuable for reinforcing these methodologies and also for creating and maintaining group cohesion among members. I went home with a renewed sense of striving for the perfect pairing of talent and trainability, and for producing horses that dedicated riders will value for their ability to partner with a rider and give generously of their talent. This is never easy, but attending the meeting serves to refresh my critical eye, as well as recalibrating my choices."
One extremely valuable session consisted of Steffen Peters and Cor Loeffen together answering questions from the audience. This combined perspective of an Olympic medalist and KWPN judge and Olympic-level trainer provided insights that are not an everyday occurrence. Meeting attendees wanted to know how Steffen selects his horses, which he prefers to do at 6-7 years of age, but he has bought foals, as well young riding horses. When Steffen rides a prospect, he looks for connection and self-carriage, regardless of age. "My concern is always the connection. The horse should go gently into the contact," Steffen explains. "The feedback, the feeling is what I'm after--the way the horse accepts the contact, the rider's aids." Steffen also reminded riders that they must differentiate between resistance and playfulness. For Cor, the movement, technique and suppleness are high priorities when looking at horses for sport.
A lengthy discussion about Totilas, his talent and his impact on breeders everywhere was a lot of fun. "I cannot imagine that we can find so many horses that can get so many 9s and 10s," Steffen says. While horses like Totilas come around once a century, Steffen gave breeders encouragement for the overall quality of horses being produced in North America, "I think you are absolutely on the right track." For bloodline aficionados, Cor shared that Totilas has the same motherline as the great showjumper Milton.
Attendees also reviewed the top ten dressage and jumping stallions via video from the 2011 KWPN Stallion Show in the Netherlands. "I want to know what the trends are," says Judy Reggio, who has been breeding horses since 1989 in Bethel, PA. "I want to learn from Cor as much as I can about trends in Holland." Judy has produced numerous Dressage at Devon winners and KWPN-NA Top Five horses.
Adding to her knowledge base was also the primary reason that Janice Baikie of Arva, Ontario, attended the Annual Meeting for the first time. Her Bel Tempo Stables has been involved with Dutch horses for 20 years, including 8-9 years of breeding. Among their success stories over the years, is Alazan, a six-year-old Contango gelding recently sold to the Millar family who claimed a Young Jumper Championship at the Winter Equestrian Festival this year.
"Cor Loeffen had great information and I particularly appreciated his honest sharing of good mare lines and which stallions were difficult to ride. This information really can only come from experts in the field who are dealing with and seeing these horses constantly and from networking with like-minded people."
Networking with others interested in producing top horses is a primary reason cited for belonging to the KWPN-NA and attending the meeting. "I really appreciated the presence of Janko van de Lageweg from VDL Stud. Being able to talk with him about young up and coming stallions, and what bloodlines mix well, in his opinion, is invaluable," Janice says.
DG Bar Ranch provided the location and many of the horses for assessment during the hands-on portion of the meeting. Janice continues, "Looking at the DG Bar Ranch horses was very worthwhile, as we could put into practice what we had learned in the morning sessions. There is nothing better than seeing as many horses as possible, and the scoring was an invaluable experience."
The Road to Grand Prix
Of course, it wasn't all education. There was a lot of socializing too at the Annual Meeting. The Thursday evening program, The Road to Grand Prix, included a wonderful review of the KWPN stallion Idocus' career, both as an Olympic dressage horse and as a sire of FEI horses. Owner Christine McCarthy, rider Courtney King-Dye and coach Steffen Peters reflected on the stallion's affable personality and talent.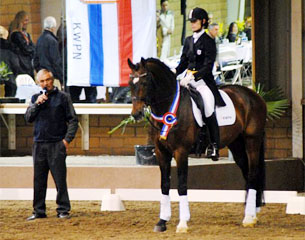 "I learned Grand Prix on Idocus," Courtney recalls. "You can set a metronome to his rhythm." The pair competed at the Rolex/FEI World Cup Dressage Finals, among many other accomplishments. Showing the audience that good genes and good care can result in a lengthy career, 21-year-old Idocus showed off his tempi changes, collection and extensions with rider Ashlyn De Groot.
The evening also included a benefit auction for Courtney. Lessons on Idocus, a breeding to the legendary stallion and a gorgeous painting of the pair were all big draws and helped raise $8,000 towards her medical expenses.
Other highlights included Cindy Jackson demonstrating Grand Prix movements on the Idocus son Strauss, a pas de deux by Tamara Majors and Stephanie Hamar and Steffen riding a freestyle on Pallas, a 13-year-old stallion by Darwin. Demonstrations by Showtime Vaulters and Mt. Eden Vaulting Club rounded out the festive evening.
Lunger Ingrid Hamar, the 2010 AVA Trainer of the Year, explained that today's vaulting horse is a real athlete, not only in his/her ability to carry the vaulters, but also in the quality of movement. This better quality of canter, "is more difficult to vault to, but makes a more beautiful picture. The best vaulters must have a great horse under them," Ingrid says.
The meeting wrapped up with the presentation of the annual awards.
 
Member of the year-Tony De Groot, sponsored by Loucky Hagens Groosman
Breeder of the Year-- Claybrook Farms, Michigan
Horse of the Year - Hickstead and Ravel, sponsored by Iron Spring Farm                         
Gert van der Veen Award (Best Star Mare)-Blossom
 

Bloodline information on the three award-winning horses:
Hickstead (by Hamlet x Jomara ster pref by Ekstein)
owner Ashland Stables and Torrey Pines Stables
breeder: B. Schijndel
Ravel (by Contango x Hautain by Democraat)
owner: Akiko Yamazaki, Four Winds Farm
breeder: H. de Man
Blossom (by Lupicor x Vanilla Shake by Larino keur)
owner/breeder: John van den Bosch
 
The 2011 Annual Meeting was sponsored by Rabobank, Natalie Bryant and Iron Spring Farm. Next year the KWPN-NA Annual Meeting will be held in the Netherlands during the KWPN Stallion Show. Details can be found at www.kwpn-na.org.
Photos © Monica Sakurai
Related Links
NAWPN to Educate its Members through Webinars
The Road to Grand Prix at the KWPN-NA Annual Meeting Includes Peters, Gray, King-Dye, McCarthy, Loeffen and Henstra
KWPN-NA Breeders To Receive More than $7,500 in Cash and Awards