German Dressage News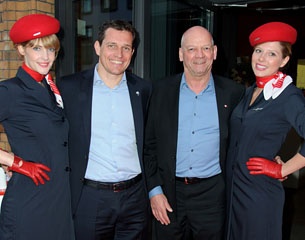 About 90 days before the start of the 2011 CHIO Aachen, the organisers have selected Italy as this year's partner country. This was celebrated together with guests from society, media, sports, politics and economy
in the restaurant "Papà Pane di Sorrento" in Berlin with as motto  "Benvenuto Italia".
Besides pizza, pasta and vino, also curry sausage was on the menu. The reason for this came from Airberlin-CEO Joachim Hunold: Germany's second largest airline had just renewed the sponsor contract with the CHIO Aachen, thus the typical delicacy of (air)Berlin was served to the guests.
"The international orientation of Aachen's event excellently suits us, since in 2011, airberlin's motto is: 1st choice for flying worldwide", Hunold stated and added that for his company the CHIO's partner country Italy is an important destination. Accordingly, airberlin will double its flight frequency between Berlin and Rome as of May 2011, new routes from Dusseldorf are Verona, Cagliari, Bari and Florence. Altogether, 14 Italian airports are approached by airberlin.
 
"The CHIO Aachen is the official equestrian event of the Federal Republic of Germany, thus it is self-evident to arrange this special evening in the capital", Michael Mronz, General Manager of the Aachener Reitturnier GmbH, gives the reason for the unusual location. For the first time, the CHIO-organisers had chosen to present their partner country in Berlin. So about 150 invited premiere guests celebrated the Italian evening with live music performed by "Appassionante", airberlin's three female musical ambassadors.
 
Italy is the tenth partner country of the CHIO Aachen. The Italian guests will be involved in the show programme of the event, and will surely bring "la dolce vita" to Aachen. Especially the Opening Ceremony on Tuesday, July 12th will bear the signature of "bella Italia". The ceremony will be broadcast live on German public TV (WDR) as of 5 p.m.
 
Already since the early twenties, the World Equestrian Festival, CHIO Aachen is organised on the traditional show grounds in Aachen. This year, about 350,000 spectators are expected to come to the old imperial city between July 8th and 17th. 300 athletes from more than 20 nations with 500 horses will fight for the victory in the five disciplines jumping, dressage, eventing, driving and vaulting. Numerous side events accompanying the sport competitions have let the CHIO develop into a well-established social event with relevance reaching far beyond the mere sport.
-- Aachen press release
Related Link
Eurodressage on the Scene at the 2011 CDIO Aachen